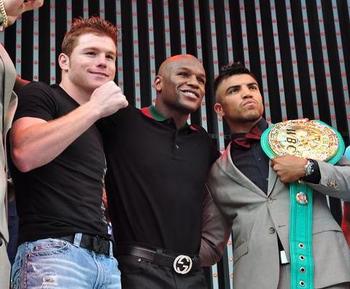 It wasn't long ago that Mexico's Saul "Canelo" Alvarez was just on a Floyd Mayweather cards. But faster than anyone thought possible, he went from co-feature to full-fledged challenger. September 14 at the MGM Grand, Alvarez will defend his WBC 154 pound title against Floyd Mayweather, Jr on Showtime PPV.
It's a classic battle. The ultimate aging boxer in undefeated  Mayweather, 36 years old with a record of 44-0, 26 knockouts
against the ultimate young, hungry lion in Saul "Canelo" Alvarez, 22 years old with a record of 42-0-1, 30 knockouts.
Not much physically separates both men. Floyd has a 72″ reach. Canelo has a 70 1/2″ reach. At 5'9″, Alvarez enjoys only a one inch height advantage. Then, there is the question of weight. Alvarez is the 154 pound champion and Floyd is the 147 pound champion so they agreed to come in at or under the 152 pound ceiling. Alvarez weighed only a pound more than that for his last fight so how that comes into play on fight night is anyone's guess.
What separates these two men besides age? At age 36, Floyd doesn't seem to have slowed down a step. Against Miguel Cotto, Mayweather  stayed on the ropes and absorbed punishment before rallying late to solidify the win.
But against Robert Guerrero, it was a pure masterclass with Mayweather having his way.
Canelo passed his first big test by putting down Austin Trout to take his undefeated record and his title belt. The fight showed he can handle a tough style in the athletic southpaw Trout with elite boxing skills.
Each man is elite. So what separates them?
Work ethic?
Knockout power?
We think it will come down to ring smarts. Canelo is tough and skilled but Floyd is experienced. Mayweather will employ any number of the following tricks as he dominates once again for a unanimous decision.
What do you think, boxing fans? Who wins? Mayweather or Canelo?
---