Boxing History: June 21, 1949 Ezzard Charles W 15 Jersey Joe Walcott, Chicago. Charles wins vacant World Heavyweight Title.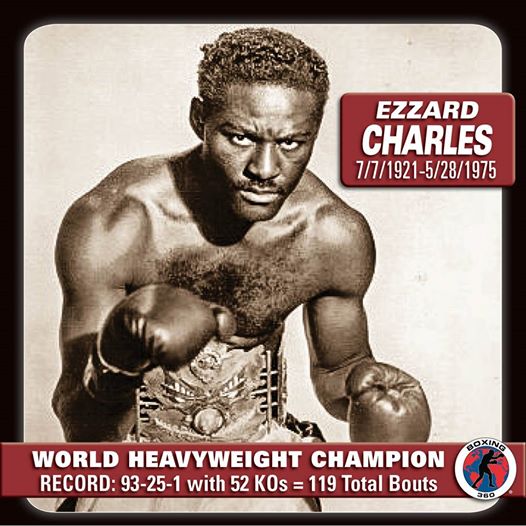 Ezzard Mack Charles (July 7, 1921–May 28, 1975) was an American professional boxer and former World Heavyweight Champion.
Charles defeated numerous Hall of Fame fighters in three different weight classes. He retired with a record of 93 wins, 25 losses and 1 draw.
Defeated Joe Louis, Teddy Yarosz, Charley Burley twice, Lloyd Marshall twice, Oakland Billy Smith twice, Jersey Joe Walcott twice, Jimmy Bivins three times, Archie Moore three times, Jimmy Bivins four times, and Joey Maxim five times.
Put his boxing career on hold while serving in the U.S. Army in 1944 and 1945.
Was ranked as the #1 light heavyweight contender by The Ring in 1947.
Knocked out Sam Baroudi on February 20, 1948. Baroudi died from injuries sustained in the fight.
Defeated Jersey Joe Walcott by a fifteen-round unanimous decision on June 22, 1949 to win the vacant National Boxing Association World Heavyweight Championship.
Defeated Joe Louis by a fifteen-round unanimous decision on September 27, 1950 to gain universal recognition as World Heavyweight Champion.
Made eight successful title defenses.
Lost the title to Jersey Joe Walcott by a seventh-round knockout on July 18, 1951.
Attempted to regain the World Heavyweight Championship three times, losing once to Walcott in 1952 and twice to Rocky Marciano in 1954.
From 1955 until his retirement in 1959, Charles fought twenty-three times and only won ten of those bouts.
Charles died from amyotrophic lateral sclerosis (ALS), commonly known as Lou Gehrig's Disease, on May 28, 1975. Charles said he first noticed the ailment in 1955. "After a guy hit me, I didn't seem to be able to get away," he recalled. "I didn't have the same coordination."
Awards & Recognition
The Ring named Charles Fighter of the Year for 1949 and 1950.
Inducted into The Ring's Boxing Hall of Fame in 1970.
Inducted into the World Boxing Hall of Fame in 1983
Inducted into the International Boxing Hall of Fame in 1990.
The Ring named Charles the 11th greatest heavyweight of all-time in 1998.
The Ring named Charles the greatest light heavyweight of all-time in 2002.
The Ring ranked Charles 13th on the list The 80 Best Fighters of the Last 80 Years in 2002.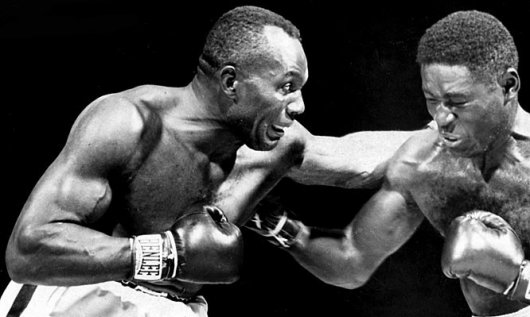 Jersey Joe Walcott and Ezzard Charles were great fighters in an era full of great fighters.
---