Boxing History: September 9, 1930 Jersey Joe Walcott KO 1 Cowboy Wallace, Vineland, NJ. This was Walcott's pro debut.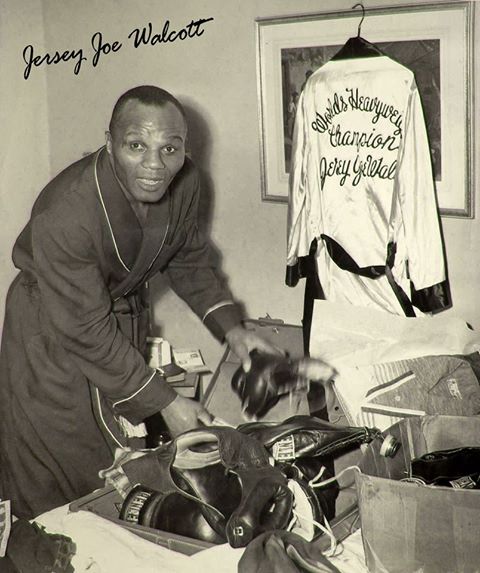 Arnold Raymond Cream (January 31, 1914 – February 25, 1994), better known as Jersey Joe Walcott, was a world heavyweight boxing champion. He broke the world's record for the oldest man to win the world's Heavyweight title when he earned it at the age of 37 years, 168 days. That record would eventually be broken on November 5, 1994, by 45 year old George Foreman, who defeated the 26 year old Heavyweight champion of the world Michael Moorer, to win the WBA and IBF heavyweight titles.
In 1965, he refereed the controversial world heavyweight championship bout between Muhammad Ali and Sonny Liston.
He did not go away from the celebrity scene after boxing. In 1956, he co-starred with Humphrey Bogart and Max Baer in the boxing drama The Harder They Fall. In 1963
In 1971 he became the Camden County Sheriff. He was the first African-American to serve as Sheriff in Camden County.
He served as chairman of the New Jersey State Athletic Commission from 1975 until 1984, when he stepped down at the mandatory retirement age of 70.
Walcott was inducted into the International Boxing Hall of Fame in Canastota.
"Jersey" Joe Walcott was the picture of perseverance. Walcott is considered an excellent boxer and slick defensive fighter. His unique style of footwork (Walcott Shuffle) and feints made him a dangerous counter puncher.
Watching Walcott work his magic in the ring is what makes
boxing an art form. He made a lot of good fighters look silly.
Never in a dull fight ,Jersey Joe was an amazing fighter and always fun to watch.
---