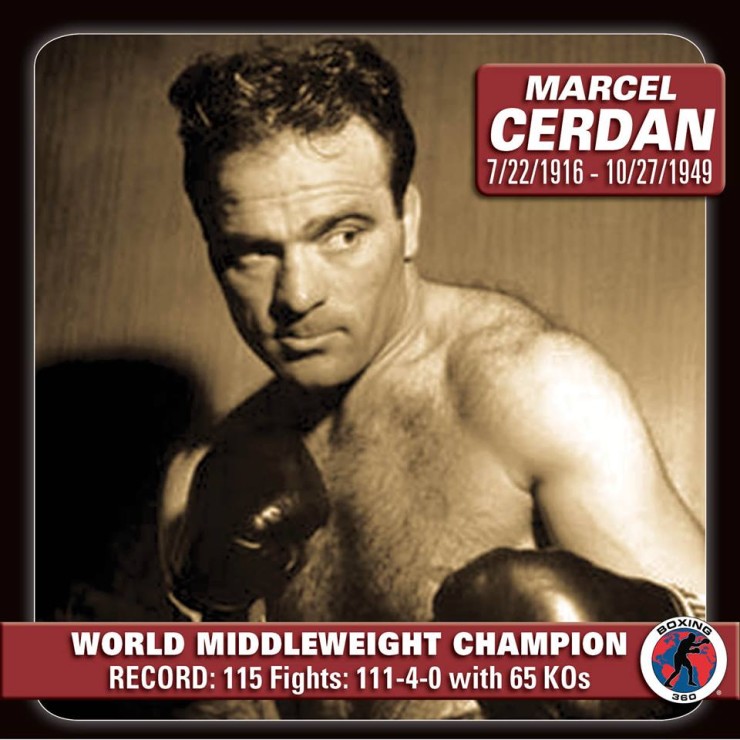 Marcel Cerdan W 6 Marcel Bucchianer, Meknes, Morocco. Cerdan's pro debut.
PRO RECORD: 111 (65 KOs) – 4 – 0
Marcel Cerdan, known as the "Casablanca Clouter," turned professional at the age of 18 in 1934 and won his first 46 fights. His first defeat was a fifth-round disqualification loss against
Cerdan won the vacant European Middleweight Title with a first-round knockout of Leon Fouquet on February 2, 1947. He lost the title to Cyrille Delannoit by a fifteen-round decision on May 23, 1948. The two had a rematch on July 10, 1948, and Cerdan regained the title with a fifteen-round decision victory.
On September 21, 1948, Cerdan fought World Middleweight Champion Tony Zale in Jersey City, New Jersey. The 33-year-old challenger dominated the "Man of Steel" and won by a twelfth-round TKO. After two non-title wins, Cerdan lost the crown on June 16, 1949 to Jake LaMotta via a tenth-round TKO. Cerdan, who injured his shoulder when the two fell to the canvas during a first-round scuffle, fought one-armed until he retired in his corner after the tenth round.
En route to America for a rematch with LaMotta later that fall, Cerdan was killed when his plane crashed in the Azores.
---