Boxing History: June 25, 1930 (Slapsie) Maxie Rosenbloom W 15 Jimmy Slattery, Buffalo. Wins World Light Heavyweight Title.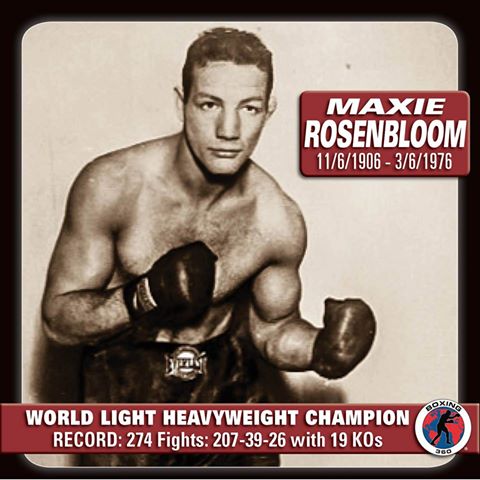 Rosenbloom's Record: 274 fights, 207-39-26 (19 KO's)
Max Everitt Rosenbloom, known as Slapsie Maxie (November 1, 1907 – March 6, 1976) was an American boxer, actor, and television personality.
Born in Leonard's Bridge, Connecticut, Rosenbloom was nicknamed "Slapsie Maxie" by a journalist due to his open gloved style of boxing. In 1930, he won the New York light heavyweight title. In 1932, he won the Light Heavyweight Championship of the World. He held and defended the title until November 1934, when he lost it to Bob Olin. As a professional boxer, Rosenbloom relied on hitting and moving to score points. He was very difficult to hit cleanly with a power punch and his fights often went the full number of required rounds. In his boxing matches he suffered thousands of head punches, which eventually led to the deterioration of his motor functions.
Rosenbloom was inducted into the Ring Boxing Hall of Fame in 1972.
In 1984 he was inducted into the International Jewish Sports Hall of Fame.
Rosenbloom was also inducted into the World Boxing Hall of Fame in 1985.
In 1993 he was inducted into the International Boxing Hall of Fame.
---