Boxing History: March 29, 1940 Joe Louis KO 2 Johnny Paycheck, NYC.
Joe Louis retains World Heavyweight Title.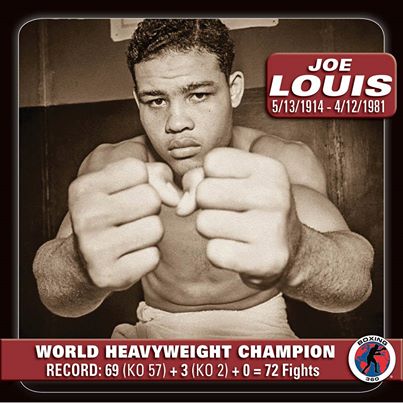 Joe Louis had 72 professional fights with only three losses. He tallied 57 knock outs, endured only three defeats, and held the championship from 1937-1949, the longest span of any heavyweight titleholder. After returning from retirement, Louis failed to regain the championship 1950, and his career ended after being knocked out by Rocky Marciano in 1951. The man who had been called the Brown Bomber was finished.
Joseph Louis Barrow (May 13, 1914 – April 12, 1981), better known as Joe Louis, was an American professional boxer and the World Heavyweight Champion from 1937 to 1949. He is considered to be one of the greatest heavyweights of all time. Nicknamed the Brown Bomber, Louis helped elevate boxing from a nadir in popularity in the post-Jack Dempsey era by establishing a reputation as an honest, hardworking fighter at a time when the sport was dominated by gambling interests. Louis' championship reign lasted 140 consecutive months, during which he participated in 26 championship fights; a 27th fight, against Ezzard Charles, was a challenge to Charles' Heavyweight title and so is not included in Louis' reign. All in all, Joe was victorious in 25 successful title defenses, a record for the heavyweight division. In 2005, Louis was ranked as the #1 heavyweight of all-time by the International Boxing Research Organization, and was ranked #1 on The Ring's list of the 100 Greatest Punchers of All-Time.
Louis' cultural impact was felt well outside the ring. He is widely regarded as the first African American to achieve the status of a nationwide hero within the United States, and was also a focal point of anti-Nazi sentiment leading up to and during World War II. He also was instrumental in integrating the game of golf, breaking the sport's color barrier in America by appearing under a sponsor's exemption in a PGA event in 1952.
Detroit's Joe Louis Arena, home of the Detroit Red Wings of the National Hockey League, and the Forest Preserve District of Cook County's Joe Louis "The Champ" Golf Course, situated south of Chicago in Riverdale, IL, are named in his honor.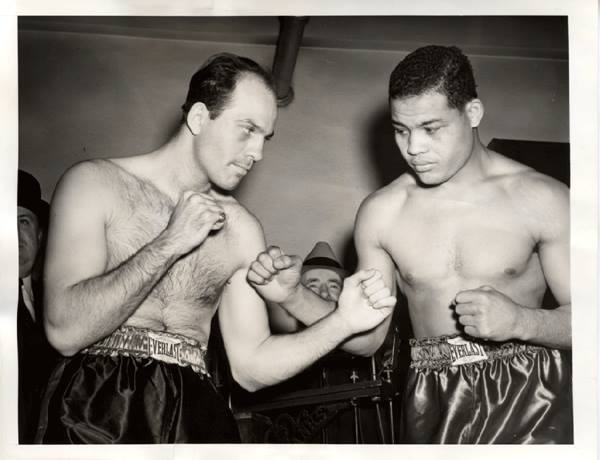 ---