Boxing History: June 14, 1934 Max Baer KO 11 Primo Carnera, Long Island. Wins World Heavyweight Title.
Baer drops Carnera 11-times!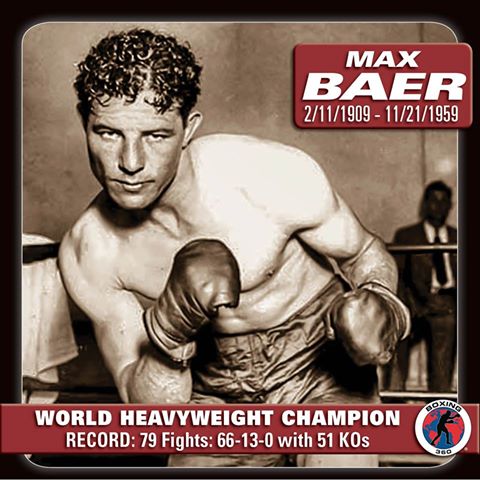 Baer was the Heavyweight Champion of the World from June, 1934 to June, 1935.
Max Baer (February 11, 1909 – November 21, 1959) was an American boxer of the 1930s (one-time Heavyweight Champion of the World) as well as a referee, and had an occasional role on film or television. He was the brother of heavyweight boxing contender Buddy Baer and father of actor Max Baer, Jr. (best known as Jethro Bodine on The Beverly Hillbillies). Baer is rated #22 on Ring Magazine's list of 100 greatest punchers of all time.
Max Baer was inducted into the World Boxing Hall of Fame in 1984 and the International Boxing Hall of Fame in 1995. Also in 2010 Baer was inducted into the International Jewish Sports Hall of Fame.
79 years ago today, June 14, 1934. World Heavyweight Championship. Max Baer vs.Primo Carnera Madison Square Garden Bowl Long Island City, Queens, New York, United States.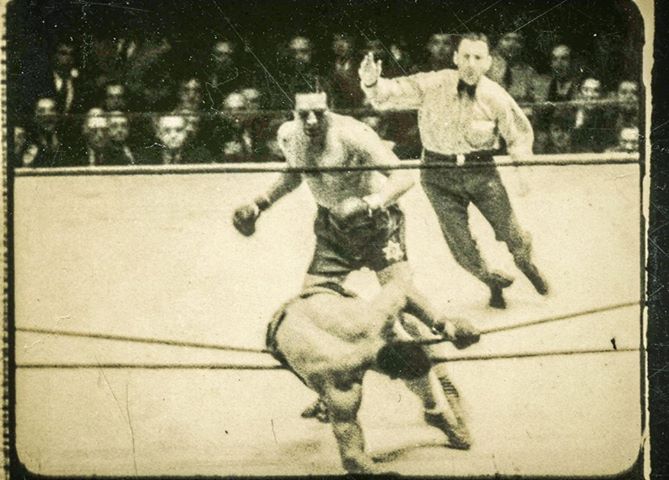 This is a single frame from one of two contact sheets documenting Max Baer's famous defeat of Primo Carnera on 14 June 1934 in 11 rounds. The (unknown) photographer snapped away, and made a contact sheet of the roll.
The Star of David on the shorts of one of the fighters identifies him as Max Baer, who first wore it in the 1933 fight against Max Schmeling.
Baer defeated Carnera in the 11th round, when the fight was stopped at the latter's request.
---