Boxing History: September 23, 1952 Rocky Marciano vs. Jersey Joe Walcott Municipal Stadium, Philadelphia, PA Marciano WINS World Heavyweight Title.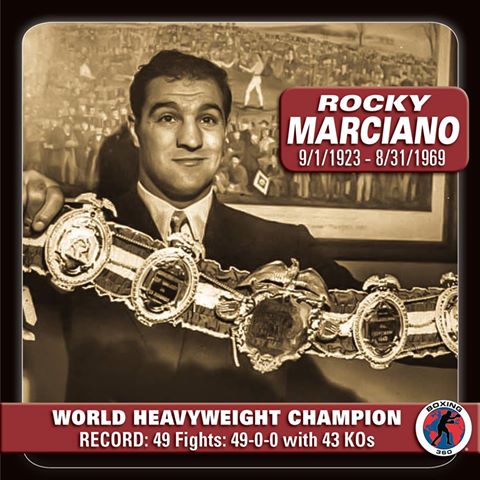 With one deep-dish beauty of a right hand at 43 seconds of the 13th round, Rocky Marciano almost tore the head off defending champion Jersey Joe Walcott, knocking his crown off in the process — a crown he had worn securely for the previous 12 rounds.
Widely considered one of the greatest fights of the twentieth century.
Scoring at the time off the stoppage was all for Walcott, referee Charlie Daggert 7-4-1, Pete Tomasco 7-5, Zack Clayton 8-4.
Rocky Marciano (born Rocco Francis Marchegiano; September 1, 1923 – August 31, 1969) was an American professional boxer and the World Heavyweight Champion from September 23, 1952, to April 27, 1956. Marciano is the only champion to hold the heavyweight title and go untied and undefeated throughout his career. Marciano defended his title six times.
In 1969, on the eve of his 46th birthday, Marciano was a passenger in a small private plane, a Cessna 172 headed to Des Moines, Iowa. It was at night and bad weather had set in. The pilot, Glenn Belz, had only 231 total hours of flying time, only 35 of them at night, and was not certified to fly in instrument meteorological conditions. Belz tried to set the plane down at a small airfield outside Newton, Iowa, but hit a tree two miles short of the runway. Marciano, Belz and 22-year-old Frankie Farrell (son of Italian mobster Louis Fratto) were killed on impact. The National Transportation Safety Board report said, "The pilot attempted an operation exceeding his experience and ability level, continued visual flight rules under adverse weather conditions and experienced spatial disorientation in the last moments of the flight." Marciano was on his way to give a speech to support a friend's son and there was a surprise birthday celebration waiting for him. He had hoped to return early morning for his 46th birthday celebration with his wife. He was coming from a dinner in Chicago at STP CEO Andy Granatelli's home.
He is interred in a crypt at Forest Lawn Memorial Cemetery in Fort Lauderdale, Florida.
A 2-ton, 22½-foot fiberglass-and-polyester resin Rocky Marciano statue, was unveiled September 23, 2012 in Brockton, Massachusetts.
A bronze statue of Marciano has been erected in Ripa Teatina, Italy, to celebrate the birthplace of Marciano's father.
Marciano was The Ring Fighter of the Year for 1952, 1954, and 1955.
Marciano was involved in The Ring Fight of the Year three times. The fights were:
1952 Rocky Marciano vs. Jersey Joe Walcott (1st meeting)
1953 Rocky Marciano vs. Roland LaStarza (2nd meeting)
1954 Rocky Marciano vs. Ezzard Charles (2nd meeting)
Marciano was elected to The Ring Boxing Hall of Fame in 1959, the World Boxing Hall of Fame in 1980, and the International Boxing Hall of Fame in 1990.
Marciano was named the fourth greatest heavyweight of all-time by The Ring in 1994.
Marciano was named the seventh greatest puncher of all-time by The Ring in 1997.
Marciano was named the ninth greatest fighter of the 20th century by The Ring in 1999.
Marciano was named the third greatest heavyweight of the 20th century by the Associated Press in 1999.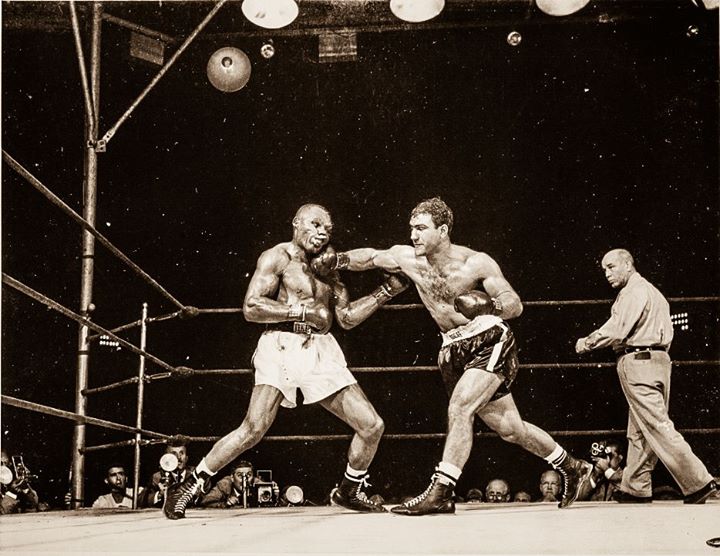 This photograph below was taken by photographer Herb Scharfman at the end of the Walcott-Rocky Marciano won the heavyweight championship. Marciano would become the only undefeated heavyweight champion in history (49-0).
September 23, 1952
---