Today in Boxing History: May 28, 2013
Tony Zale was born Anthony Florian Zaleski.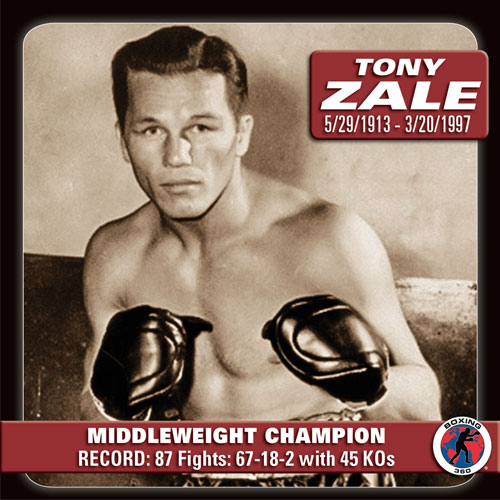 Anthony Florian Zaleski (May 29, 1913 – March 20, 1997) was an American boxer. Zale was born and raised in Gary, Indiana, a steel town, which gave him his nickname, "Man of Steel." In addition, he had the reputation of being able to take fearsome punishment and still rally to win, reinforcing that nickname. Zale was known as a strong body puncher, who punished his opponents and steadily wore them down before knocking them out.
May 29, 2013, marks the 100th birthday of Anthony Florian Zaleski, aka, Tony Zale. He was the real "Man of Steel" from Gary, Indiana, and two-time world middleweight champion. He held the championship from 1940 to 1947, and again in 1948 and was the second boxer in history to regain the world middleweight title.
Zale is best remembered for his three fights over a 21-month period with Rocky Graziano for the World Middleweight Championship. Their three fights were among the most brutal and exciting middleweight championship matches of all-time.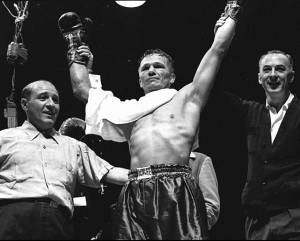 The first match took place at Yankee Stadium in New York City. Zale, who was 33-years-old, had served in the United States Navy during World War II was and went almost four years without having a professional bout. Zale returned to the ring in January 1946 and won six non-title fights by knockout before defending the title against Graziano on September 27, 1946. After flooring Graziano in the first round, Zale was dropped in the second round and took a savage beating from Graziano over the next several rounds. Zale, who looked like a beaten fighter, rallied to knock out Graziano in the sixth round to retain his title. The fight was named The Ring Fight of the Year for 1946.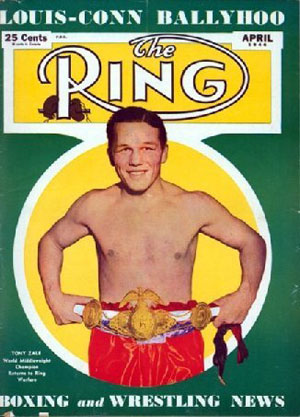 The rematch took place at Chicago Stadium in Chicago, Illinois on July 16, 1947. Grazianowas knocked down in the third round and was battered for most of the fight. He suffered a severe cut over his left eye and his right eye was swollen shut. In between the fourth and fifth rounds, Whitey Bimstein, Graziano's trainer and cut man, took a coin and pressed it against his closed right eye, breaking the skin and reducing the pressure. This allowed Graziano to partially regain his vision. Like Zale in the first fight, Graziano looked like a beaten fighter, but he rallied and knocked out Zale in the sixth round to win the title. The fight was named The Ring Fight of the Year for 1947.
Their last fight was held at Ruppert Stadium in Newark, New Jersey on June 10, 1948. Zale knocked Graziano down in the first round with a left hook. After hurting Graziano early in the second round, Zale was rocked by a right. In the third round, Zale dropped Graziano for a seven-count with a left hook, then knocked him cold with another left hook. Zale became the third boxer to regain the middleweight title.

Named The Ring Fighter of the Year in 1946.
Boxing historian Herbert Goldman ranked Zale as the 10th greatest middleweight of all-time.
In the late 1970s and the early 1980s, Zale was the head of amateur boxing for the Chicago Park District under General Superintendent Edmund L. Kelly. Zale visited the many park boxing locations and mentored coaches, including Lee Roy Murphy of Wentworth Gardens and Leo Podgorski of Portage Park.
Tony Zale. Though his life and ring lore is well established, his commitment after those days in the ring are not well known. His dedication of 36 years to the youth of this great country was recognized in 1990 by President H. W. Bush, with the presentation of the Presidential Citizens Medal.
Zale was originally cast to play himself in the movie "Somebody Up There Likes Me". When Paul Newman (playing Graziano) and he were sparring prior to filming, Newman got rough and Zale knocked him out. Zale was replaced by Courtland Shepard for the final fight scene.
Tony Zale was one of those people who by the end of his 83 years, was content with the knowledge that he had given his best, and more importantly, had a positive impact on so many young lives, including those he had never met.
He was the finest piece of steel ever forged in Gary, Indiana's steel mills.
Watch for the upcoming biography "The Real Man of Steel, Tony Zale" .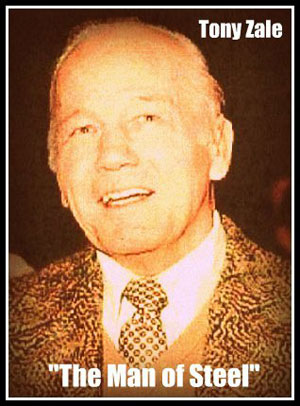 Happy 100th Birthday Champ!
---