Boxing History: May 28, 1933 Jimmy McLarnin KO 1 Young Corbett III, Los Angeles.
McLarnin wins World Welterweight Title.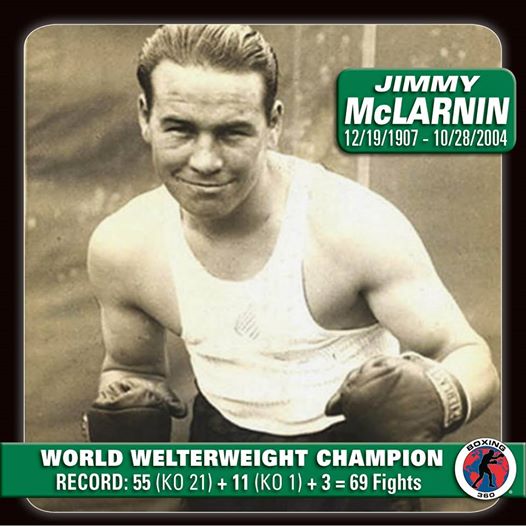 Referee: George Blake. The "most spectacular upset the welterweight division has known in many years." After Corbett had been floored twice and had his back to McLarnin, the "Irishman rushed across the ring and punched Corbett in the jaw again and Referee George Blake stopped the contest immediately. Corbett was out on his feet. Corbett was the seventh welterweight champion in succession to lose possession of the title in defending it for the first time."
Jimmy "Baby-faced Assassin" McLarnin
(December 19, 1907 – October 28, 2004) was a Canadian professional boxer who became two-time welterweight world champion and an International Boxing Hall of Fame inductee. BoxRec ranks McLarnin as the 11th best pound-for-pound fighter of all-time, the second best Canadian boxer of all-time (after Sam Langford) and the greatest welterweight of all-time (ahead of the great Henry Armstrong).
Despite his youthful appearance, McLarnin had incredible power with both fists, his right being particularly feared.
McLarnin's second title shot came against welterweight champion Young Corbett III. McLarnin won by knockout after only 2 minutes 37 seconds. Following his title success, McLarnin fought an epic three-fight series with Barney Ross. The first fight, on 28 May 1934, was won by Ross, but McLarnin regained his title in their next match four months later. In the deciding fight on 28 May 1935, McLarnin lost his title for the final time in a narrow decision, and for the rest of his life McLarnin claimed he had done enough to retain his belt.
McLarnin retired in November 1936 still at the top of his game, having won his last two fights against all-time greats Tony Canzoneri and Lou Ambers. His record was 54 wins, 11 losses, and 3 draws in 68 contests. In 1996 Ring Magazine voted McLarnin the fifth-greatest welterweight of all time.
Unlike many boxers, McLarnin invested his money wisely and retired a wealthy man. He opened an electrical goods store, and also did some acting, golfing, and lecturing. He never returned to the ring despite the large incentives for him to do so.
McLarnin died in Richland, Washington in autumn of 2004, aged 96, and was interred in the Forest Lawn Memorial Park Cemetery in Glendale, California.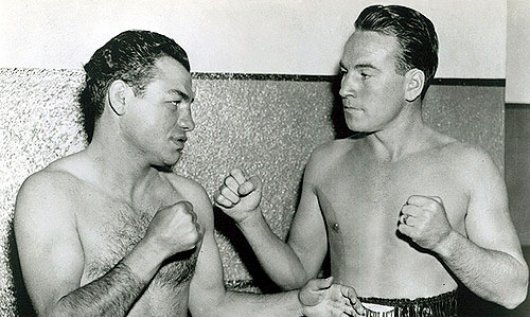 Jimmy McLarnin vs. Tony Canzoneri.
Former welterweight champion Jimmy McLarnin was one of the greatest boxers in history and fought everyone of note during his long career. He met Tony Canzoneri, another all-time-great, on May 9, 1936 at Madison Square Garden in the first of their two fights. McLarnin was 52-10-3 going in. Canzoneri was 117-16-8. McLarnin was slowly winding down but still had plenty in the tank. Canzoneri, amazing, was still going strong and would continue to go strong for a few more very busy years…
---