Boxing History: September 11, 1934 Teddy Yarosz SD 15 Vince Dundee Forbes Field, Pittsburgh, Pennsylvania, USA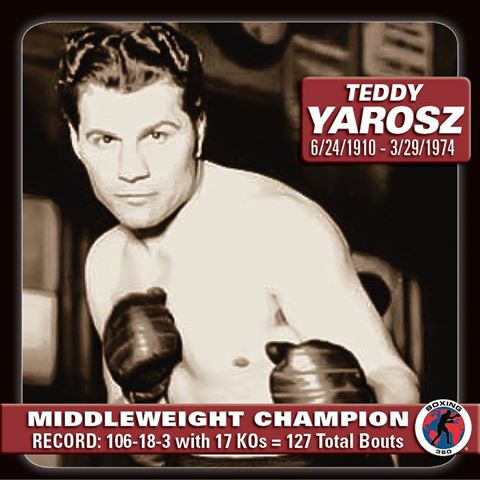 Yarosz wins NYSAC and National Boxing Association World middleweight titles
Teddy Yarosz (24 June 1910 – 29 March 1974) was an American athlete in boxing. He held the world middleweight boxing championship during 1934–1935.
Born: Thaddeus Yarosz in Pittsburgh, PA. The son of Polish immigrants, Teddy and his family moved to Monaca, PA when he was 10-years old. Teddy, along with his older brother Eddie, were both interested in boxing despite their father's objections. After their father's death in 1926, the brothers took up amateur boxing and became standout lightweights in Western Pennsylvania. A member of the Pennsylvania team that competed in the 1929 national championships in Boston, Teddy lost in the finals.
He turned pro in June of that year and was undefeated for his first 59 fights. Before retiring in 1942, he logged impressive wins over quality opponents including Risko, Ken Overlin, Solly Kreiger, Lou Brouillard, Ralph DeJohn, Archie Moore, and Lloyd Marshal.
He retired from the squared circle with a pro record of 106-18-3 (17 KOs) and a reputation as an honest fighter whose skills were good enough to turn back some of the greatest ring men of his time. In retirement he owned and operated a bar called Teddy's Inn and later worked in the steel industry.
Yarosz was featured on the cover of the January 1934 issue of The Ring magazine.
Yarosz was inducted into the International Boxing Hall of Fame in the Class of 2006.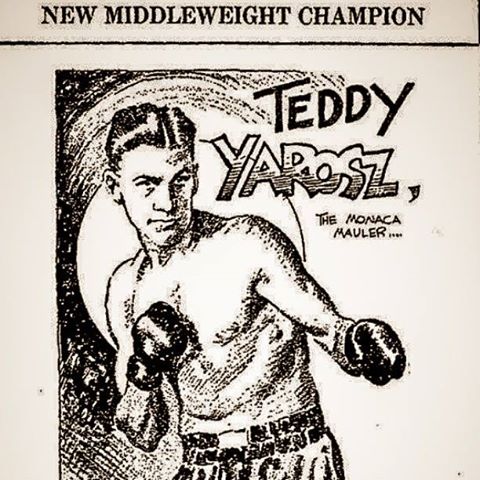 ---