Boxing History: September 21, 1948 Marcel Cerdan TKO 12 Tony Zale, Jersey City, NJ.
Cerdan wins World Middleweight Title.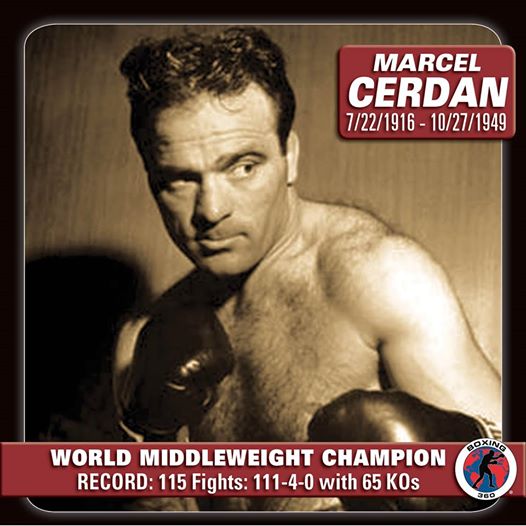 Marcellin "Marcel" Cerdan
July 22, 1916 – October 28, 1949 was a world boxing champion who was considered by many boxing experts and fans to be France's greatest boxer, and beyond to be one of the best to have learned his craft in Africa. His life was marked by his sporting achievements, social lifestyle and ultimately, tragedy.
Marcel Cerdan was born in what was then French Algeria.
Cerdan's record was 111 wins and 4 losses, with 65 wins by knockout.
Marcel Cerdan, known as the "Casablanca Clouter," turned professional at the age of 18 in 1934 and won his first 46 fights. His first defeat was a fifth-round disqualification loss against Englishman Harry Craster on January 9, 1939 in London. Four bouts and six weeks later, Cerdan beat his first world-ranked opponent, Saverio Turiello, in a welterweight contest in Paris. Then he beat Turiello again, this time for the European Welterweight Title on June 3, 1939.
With the outbreak of WWII and the early fall of France, Cerdan didn't resume his career until 1941 in North Africa. But by the end of the year, he was back fighting on the mainland, which was occupied by Germany. A disqualification loss to Victor Buttin, whom he later knocked out, is the only blemish in his 28 fights from 1941 to 1944. He continued his winning ways through the next two years, including a ten-round decision win over Holman Williams in Paris and a ten-round decision win over Georgie Abrams in his New York debut.
Cerdan won the vacant European Middleweight Title with a first-round knockout of Leon Fouquet on February 2, 1947. He lost the title to Cyrille Delannoit by a fifteen-round decision on May 23, 1948. The two had a rematch on July 10, 1948, and Cerdan regained the title with a fifteen-round decision victory.
On September 21, 1948, Cerdan fought World Middleweight Champion Tony Zale in Jersey City, New Jersey. The 33-year-old challenger dominated the "Man of Steel" and won by a twelfth-round TKO. After two non-title wins, Cerdan lost the crown on June 16, 1949 to Jake LaMotta via a tenth-round TKO. Cerdan, who injured his shoulder when the two fell to the canvas during a first-round scuffle, fought one-armed until he retired in his corner after the tenth round.
En route to America for a rematch with LaMotta later that fall, Cerdan was killed when his plane crashed in the Azores.
He is a member, along with LaMotta and Zale, of the International Boxing Hall of Fame.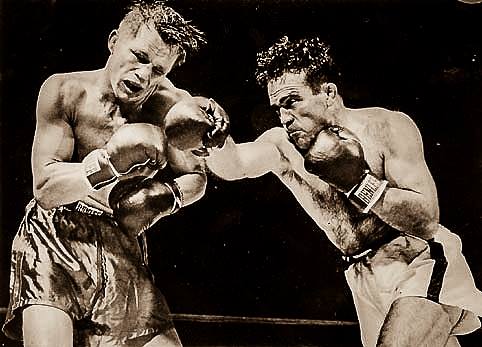 ---