Boxing History: January 1, 1922 Rocky Graziano born Thomas Rocco Barbella.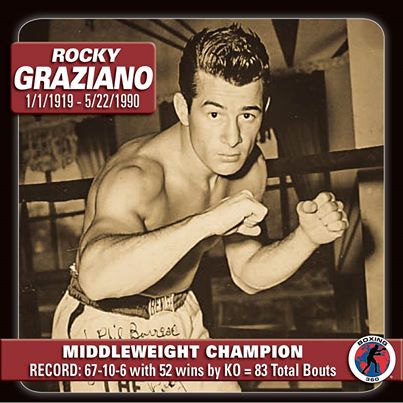 Thomas Rocco Barbella (January 1, 1919 — May 22, 1990), better known as Rocky Graziano (Graziano is his grandfather's surname). Born in Brooklyn, he later moved to Little Italy in New York's Lower East Side. Graziano grew up as a street fighter and learned to look after himself before he could read or write. He spent years in reform school, jail, and Catholic protectories. His father, who got occasional work as a longshoreman, kept boxing gloves around the house and encouraged Graziano and his brothers to fight one another.
Rocky Graziano, is considered one of the greatest knockout artists in boxing history, having the capacity to take any of his opponents out with a single punch. Sugar Ray Robinson, who fought Graziano in 1952, said, "No one ever hit me harder than Rocky."
The Ring ranked Graziano 23rd on their 2003 list of The 100 Greatest Punchers of All-Time!. In the ring he was one of the most exciting boxers in boxing history, fighting in the Ring Magazine's first three Fights of the Year. Graziano was "raised on New York's lower East Side where both sides of the tracks were wrong." Graziano overcame coming from a disadvantaged background to rise to the top of the ring and entertainment world.
Drafted into the U.S. Army in 1942, but he soon went AWOL after punching an officer.
Chicago, Illinois on July 16, 1947, Graziano won the World Middleweight Championship with a sixth-round knockout. Like the first fight, the bout was named The Ring Fight of the Year.
Scheduled to face Jake LaMotta for the World Middleweight Championship on June 28, 1950, but the fight was canceled after Graziano fractured his left hand.
Fought Sugar Ray Robinson in Chicago, Illinois for the World Middleweight Championship on April 16, 1952. Robinson retained the title after being knocked down in the third.
He was immensely successful on both television programs and commercials for several decades, performing on the first ever color television program to go on the air after the FCC approved color television.
Autobiography, "Somebody Up There Likes Me", was made into an Oscar winning movie in 1956.
Became friends with United States President Ronald Reagan, who appeared with him on the cover of his 1981 book "Somebody Down Here Likes Me, Too".
In the 1960s and 1970s, he owned a restaurant in North Miami, Florida called Rocky Graziano's.
Acted in the Frank Sinatra movie Tony Rome and appeared on the TV series Naked City, Car 54, Where Are You?, and Mod Squad. Graziano also appeared on a number of variety shows.
In his later years, Graziano was a renowned artist. His paintings were displayed in numerous individual shows at prominent New York art galleries.
Suffered a stroke in April 1990 and died a month later at age 71.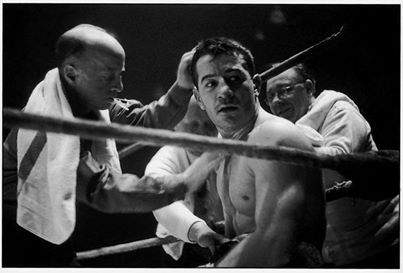 Rocky Graziano (December 1949) Photo by: Stanley Kubrick
---