Boxing History: September 10, 1931 Tony Canzoneri W 15 Jack (Kid) Berg, NYC.Retains both World Super Lightweight and World Lightweight Titles!!!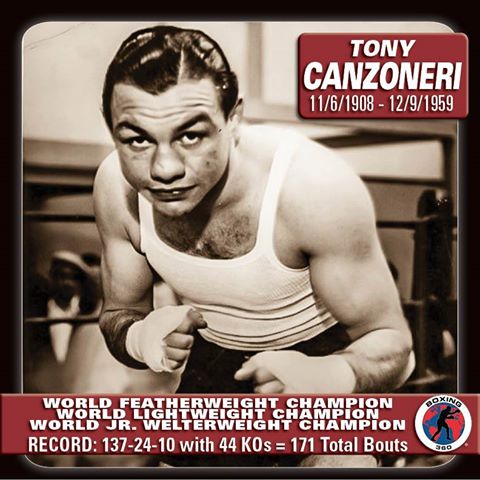 The bout was originally scheduled to be staged in London, England, where the championship would have changed hands when Berg went to the floor from a foul blow in the eighth round. As it was, under NYSAC rules, a fighter could not win or lose on a foul, although 18,000 fans shouted protests. Referee Haley counted over Berg as though he had been sent to the canvas by a legitimate blow.
Tony Canzoneri (November 6, 1908 – December 9, 1959 in Slidell, Louisiana) was an American professional boxer. Canzoneri was a three-time world champion and held a total of five world titles.
Tony Canzoneri fought 18 world champions and six Hall of Famers. He defeated such fighters as Baby Arizmendi, Benny Bass, Jackie (Kid) Berg, Kid Chocolate, Johnny Dundee, Johnny Jadick, Frankie Klick, Jimmy McLarnin, Billy Petrolle, Andre Routis, Battling Shaw, Al Singer and Bud Taylor.
Canzoneri, an Italian American, was one of the members of the exclusive group of boxing world champions who have won titles in three or more divisions.
World Lightweight Champion
14 Nov 1930–23 Jun 1933
World Junior Welterweight Champion
24 Apr 1931–18 Jan 1932
World Lightweight Champion
10 May 1935–3 Sep 1936
The Ring Magazine named Canzoneri, along with Barney Ross, Fighter of the Year for 1934.
The September 2001 issue of The Ring Magazine ranked Canzoneri as the eighth greatest lightweight of all-time.
In 1999, The Associated Press ranked Canzoneri as the fourth best featherweight, the third best lightweight, and the third best junior welterweight of the 20th century.
Bert Sugar, in his book Boxing's Greatest Fighters, ranked Canzoneri as the 12th greatest fighter of all-time.
Canzoneri was inducted into The Ring Magazine's Boxing Hall of Fame in 1956, the World Boxing Hall of Fame in 1981, and the International Boxing Hall of Fame in 1990.
Tony Canzoneri held world championships in the featherweight, lightweight, and junior-welterweight divisions.
---