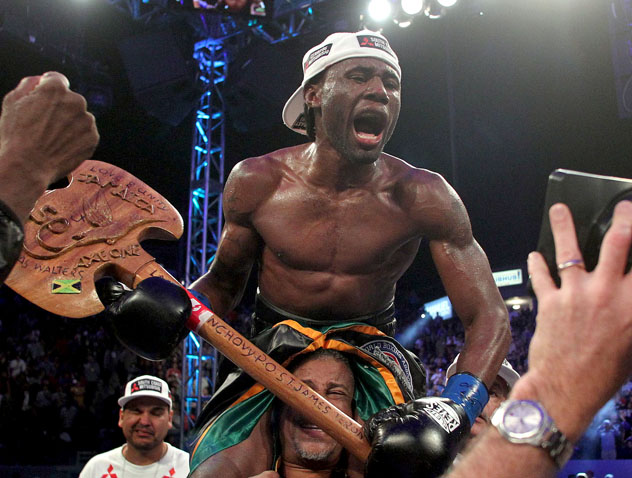 Unbeaten WBA Featherweight champion of the world Nicholas  "The Axe Man" Walters (25-0, 21KOs) entered 2014 as a rather unknown world champion. By the end of the very same year he was the exact opposite. Walters first opened eyes with his explosive 5th KO of ex-champ Vic Darchinynan last April. Walters showed extreme poise in the fight against his most notable and experienced opponent at that time. He patiently waited for his opportunity to set Darchinynan up for what would be voted by some as the knockout of the year. Impressively as this was it would only be the appetizer to the main course which would happen just a few months later on a much bigger stage.
Walters the WBA's regular champion would challenge the  WBA Super Featherweight champion Nonito Donaire. It was a huge opportunity for Walters as the fight was broadcast live on HBO against a very notable name in Donaire meaning a lot of viewers would be tuning in. After a fairly close first round Donaire would hurt Walters at the end of round 2. Walters would rebound in a big way dropping Donaire for the first time in his career in round 3. Walters would take over the fight at that point using his jab and physical size advantage on Donaire. At the very end of round 6 Walters sent Donaire face first to the canvas. Donaire showed his heart to beat the count but he was in no condition to continue and the bout was rightfully waved off by the referee with Walters declared as the TKO 6th round winner.
The path to stardom has not been a traditional one for Walters. He was born and raised in Montego Bay, Jamaica. He took up boxing at the age of 10 and is a second generation fighter as his father Job who trains him boxed professionally as well. Walters was signed out of the amateurs by manager Jacques Deschamps of Haiti. Deschamps has guided the careers of such former world champions as Anselmo Moreno and Edgar Sosa. Deschamps would have Walters relocate to Panama where he would make his pro debut in 2008. It was in Panama where Walters would hone his skills in the ring for the majority of the next 4 years gaining experience alongside of the best fighters in the lower weight divisions. Walters would also become fluent in Spanish during this time enhancing his marketing profile. In December of 2012 Walters would go on to win the vacant WBA World featherweight title against colombian Daulis Prescott. To top it off his crowning achievement took place in native Jamaica where he became the first native from his country to win the world title at home. The following year Walters would sign with promotional powerhouse Top Rank which would launch his career to the next level.
Walters is an imposing figure in his weight class as he towers above most at 5ft7. He is also physically bigger than most when he and his opponents enter the ring fight night. As we close out the first quarter of 2015 there are a number of viable options for Walters. Unification is a very good possibility. Including himself Top Rank promotes 3 of the 4 world champions recognized by the major sanctioning bodies. This includes unbeaten IBF featherweight champion Evgeny Gradovich and WBO featherweight champion Vasyl Lomachenko. A non mandatory defense could likely be next for Walters. After his achievements in 2014 he has earned that right to do so should he choose to. One thing for sure is Walter's has built a following of fans who want to see him fight. The knockout is what many fans want to see and that's what  "The Axe Man" delivers.
---