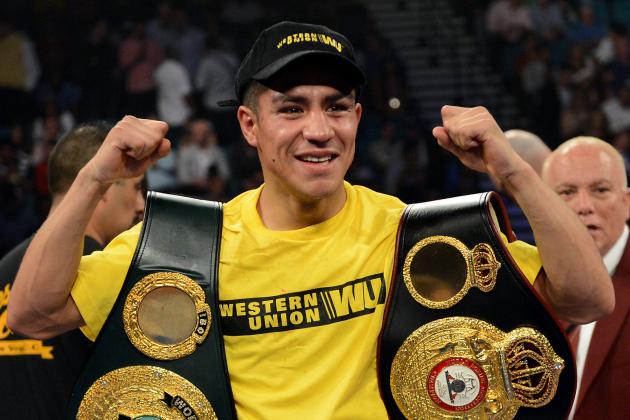 WBA Super Lightweight champion Jessie Vargas (26-0, 9KOs) is garnering the least of attention amongst the other world champions at his weight. Oddly enough Vargas was   much more in the limelight as a promising prospect. This without a doubt was because of the company he was keeping at that time. None other than Pound for Pound unbeaten King Floyd Mayweather Jr. was guiding his career. Not only was Vargas fighting on Mayweather Jr.'s  PPV undercards but he was on the televised portion getting major exposure. Since he departed from Mayweather Jr. he has gone on to become a world champion but relatively unnoticed. It is said that he did depart on good terms.
One thing that he had to address was which weight class that he would settle into. He tried 147 for a few years. He has the height at 5′ 10″ but the punching power he displayed at or near 140 wasn't there.  This was supported by 0 knockouts in the 5 fights during that span. He dropped down to 140 after that and even though the knockouts still haven't come he seems to have settled into the weight class. He captured his WBA super lightweight title with his gutsy victory over Khabib Allakhverdiev about a year ago.
It's no secret that the biggest names at 140 are advised by Al Haymon.  Vargas is promoted by Top Rank. The biggest fight in modern boxing history was just made between the two sides with Mayweather Jr. now set to fight Manny Pacquiao May 2nd. So time will tell where this leads for future fights between their perspective fighters. There is a big clash between Lucas Matthysee and former world champion Ruslan Provodnikov coming up and perhaps Vargas could land the winner. Matthysee is with Golden Boy and Provodnikov is with Banner Promotions so there would not be any promotional roadblocks to make either of those fights happen. Terrance Crawford has now moved to the 140 pound division and is rapidly building his name so this could be a lucrative fight for Vargas within a year or so. Especially if both are still unbeaten and both world champions  making the fight that much bigger as a unification.
There is a lot of upside with Vargas. He nearly has 6 years as a pro but he is only 25 years of age. He was an accomplished amateur and is a local in the boxing capital of the world Las Vegas, Nevada. He is a very marketable bilingual fighter and the Las Vegas based Top Rank can definitely help grow his local fan base. As is the norm with Top Rank they kept him busy in 2014. Though no fights are currently scheduled for Vargas in the first quarter of  2015 there are for sure viable options for him to have a breakout year.
---