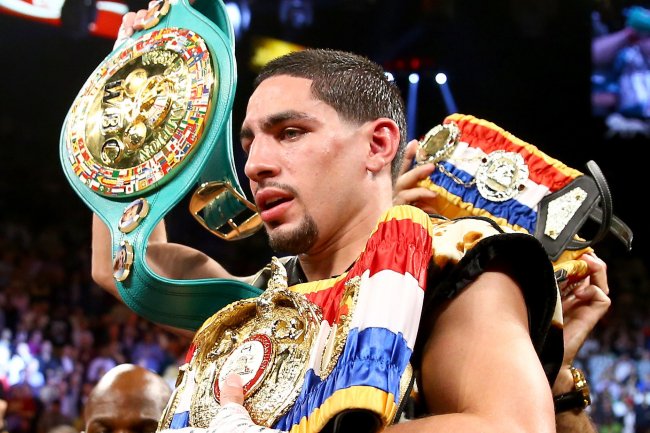 Opportunity knocking for Danny Garcia vs Lamont Peterson
Unified junior welterweight world champion Danny Garcia (29-0,  17KOs) will look to get back on track to star status when he faces IBF junior welterweight champion Lamont Peterson (33-2-1  17KOs) April 11th. Between the two of them they own 3 of the 4 recognized world titles in the junior welterweight division. Ironically neither fighter will be defending their titles on this night as they have agreed to meet at a catch weight above the 140 pound max limit. The location will be the Barclays Center, in Brooklyn, New York. This will be Garcia's 4th fight at this venue in his last 6 fights.
(Rising Star)
It's a bit odd to say an unbeaten fighter needs to get back on track but you'd have to journey back over the last few years of Garcia's career to present day to fully understand.  Garcia's breakout fight into mainstream boxing came with his explosive 4th round TKO over world champion Amir Khan back in 2012. Khan was a very hefty favorite to defeat Garcia entering the bout. It looked good early for Khan as he was dominating the action but Garcia landed one power shot that changed the entire complexion of the fight in the 3rd round prior to finishing Khan off in the next round. Garcia once again was an underdog as he faced hard punching Lucas Matthysee who ironically was coming off of a devastating 3rd round TKO over Lamont Peterson. Garcia controlled the action with very intelligent fight plan. In fact it was Garcia who scored the only knockdown of the fight and Matthysee had a very badly swollen eye courtesy of Garcia.      .
( stardom setback)
The stock of Garcia was rising high as he was now seen as a very legit and respected world champion after defeating Matthysee. The sky seemed the limit for this young rising star.  His very next fight would see him in Puerto Rico versus Mexican Mauricio Herrera.   Garcia was born and raised in Philadelphia, Pennsylvania but his ancestry is of Puerto Rican descent. He doesnt speak fluent Spanish and had not had big following by the Puerto Rican fans. So there was no certainty on how the locals would receive him. As Garcia made his ring entrance he received a very warm welcome from the large Puerto Rican crowd in attendance. The stage now seemed set for Garcia to win the local fans over as the Puerto Rico vs. Mexico Rivalry is one of the strongest in boxing and has been for years. Unfortunately for Garcia his opponent Herrera brought an unpleasant but effective style. Garcia was unable to keep a steady rhythm all night long. When he had his moments the fans on hand seemed desperately wanting to erupt and get behind him. Even chanting his name in unison to show their support. It was not from a lack of effort by Garcia mind you as he gamely tried to deliver the explosive  moments he showed in his fights with Erik Morales(twice),Khan, Zab Judah, and Matthysse. In all those fights he was able to put his opponents down. This was not in the cards against Herrera who not only showed an excellent chin but a frustrating countering attack as well. In the end the bout was a close but unpleasing affair.  One judge had it even with the other two favoring Garcia giving him the majority decision win and retaining his world titles. Many fans watching on TV and media felt that Garcia didn't do enough to earn the victory. Over the next few months Garcia took a lot of heat over the decision.
(criticism)
Garcia's very next fight was again met with criticism but this time it was before the bell even rang. Lightweight Rod Salka moved up in weight to fight Garcia in a non-title 142 pound catch weight fight. As expected the heavily favored Garcia completely destroyed Salka  dropping him 3 times in route to a second round KO.  Most don't even discuss the Salka fight as it was such a mismatch. Instead it's the Herrera fight that is constantly brought up when Garcia's name is now mentioned.
(opportunity)
When Garcia faces Peterson he has both a chance to get back on track to rising star status or the danger of being upset. Peterson unlike Herrera doesn't have a tricky style. He comes straight forward which should be ideal for the in his prime 26 year old Garcia. Peterson is not a big puncher and Garcia has shown a good chin in facing bigger punchers than Peterson. The main danger Peterson would bring would be to outwork Garcia.  Some sports books  have Garcia as the favorite at -325 to defeat the underdog +250 Peterson.  Just defeating Peterson is not going to get the fans excited again about wanting to see more Garcia fights as was the case a few years back. Garcia will have to win them over again with a spectacular performance.
---