Boxing History: October 1, 1975 Muhammad Ali KO 14 (Smokin') Joe Frazier, Manila Retains World Heavyweight Title.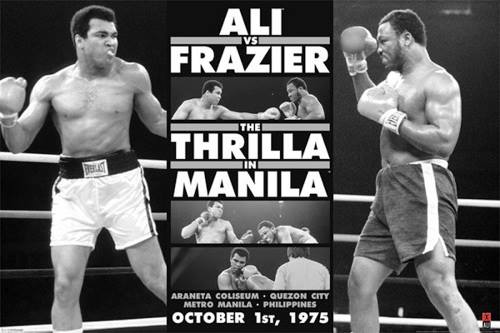 The Thrilla in Manila was a boxing match between Muhammad Ali and Joe Frazier, fought at the Araneta Coliseum in Quezon City of the Philippines on October 1, 1975. The bout is often ranked as one of the greatest fights of all-time and is the climax to the bitter rivalry between Ali and Frazier.
Promoted by Don King, the Thrilla in Manila had a tremendous media following. The fight was shown on closed-circuit television in 380 locations in the United States and broadcast to 68 countries worldwide. Ali was guaranteed $4.5 million against 43% of the gross, while Frazier was guaranteed $2 million against 22%. Ali ended up with about $9 million and Frazier made roughly $5 million.
The fight was scheduled for the morning to accommodate fans watching on closed-circuit television in the United States, which is 12 to 15 hours behind the Philippines.
Named Fight of the Year by The Ring in 1975
Named the #1 Fight of All-Time by The Ring in 1996.
ESPN's SportsCentury ranked the fight as the fifth greatest sporting event of all-time in 1999.
After 14 completed rounds, Ali led 8-5-1, 8-2-4, and 9-3-2 on the scorecards.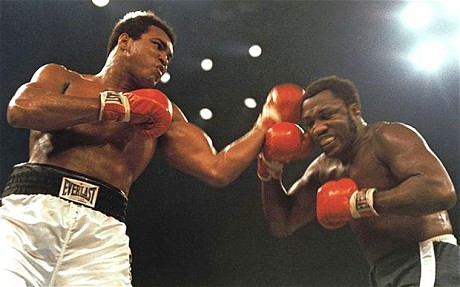 ---