Boxing History: December 22, 1939 Ceferino Garcia KO 13 Glenn Lee, Manila. Retains World Middleweight Title. RECORD: 119 (KO 74)-30-14 = 163!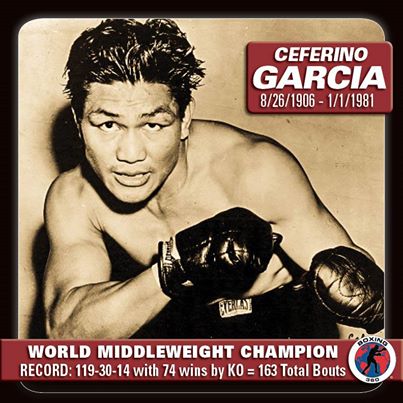 Ceferino Garcia (August 26, 1906 — January 1, 1981) was a champion boxer born in Naval, Biliran, Philippines. His number of victories are the most ever achieved by a Filipino boxer. He's also the only boxer from the Philippines ever to become world champion at middleweight. He was managed, during the final years of his career by George Parnassus. Ceferino Garcia is commonly referred to as the inventor of the bolo punch.
Ceferino Garcia was the son of Fortunato and Pascuala Garcia and was the oldest of six children. He never completed first grade and became quite indulged in gambling. At 17, he was feared by many that nobody would take him in a street fight. He was also a skilled blacksmith.
While working at a bakery in Cebu City, Garcia met a boxing promoter. This was where his career as boxer started.
On September 23, 1937, Garcia first had a shot for a world title in the welterweight division. However, Barney Ross bested him by unanimous decision.
On October 2, 1939, Garcia fought for the world Middleweight title in the United States and won it. He defended that title three times until he lost to Ken Overlin on points.
Garcia had a few uncredited Hollywood movie roles in the 1940s. He also worked as a driver and bodyguard for actress Mae West.
Inducted into the Ring Magazine's Boxing Hall of Fame (1977)
Inducted into the World Boxing Hall of Fame (twice!)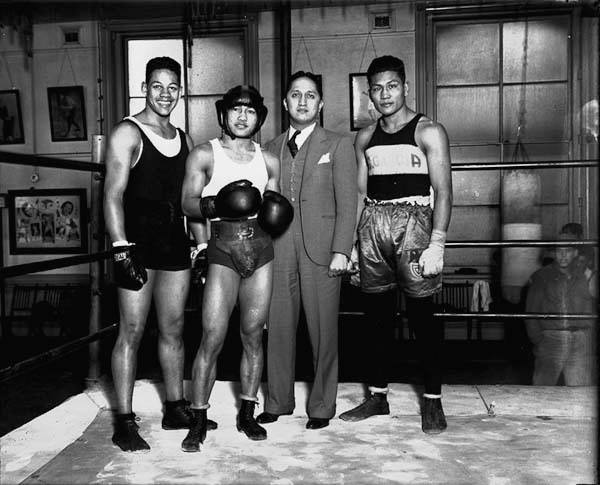 Ceferino Garcia was the inventor of his very own punch – "the bolo punch" – which resembles the action of swinging a bolo. Isn't that so gangsta? Big users of the bolo punch are Roy Jones Jr. and Sugar Ray Leonard, who used it to knock out Duran in the "No Mas" fight.
---