Boxing History: July 2, 1921 Jack Dempsey KO 4 Georges Carpentier, Jersey City. Dempsey retains world heavyweight title. The first million dollar gate.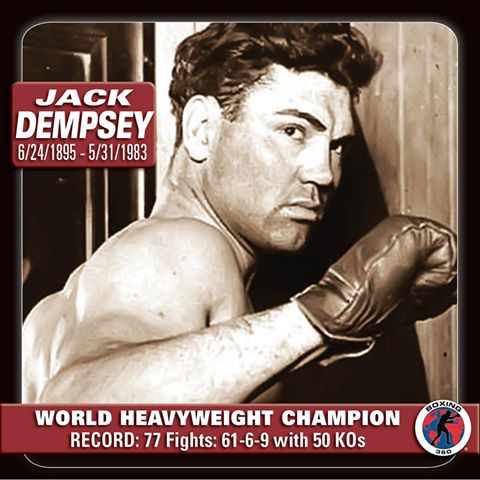 Dempsey World Heavyweight Champion: 1919-1927
One of the most popular boxers of all time. The Associated Press's mid-20th century poll of over 300 sports writers and radio sportscasters ranked Dempsey the best fighter of the past 50 years.
Born in Manassa, Colorado on June 24, 1895, William Harrison "Jack" Dempsey rose to sports stardom in the 1920s. As a nomadic traveler from 1911 to 1916, Dempsey began boxing in the small mining towns of Colorado under the name "Kid Blackie." He emerged from numerous saloon floor-boxing matches to rein victorious in over 80 professional fights by the meager age of 24. Dempsey was perhaps best known for his thrilling knockout victories, many of which occurred in just seconds of the fight's onset.
Dempsey proved his phenomenal ability in a battle of "David and Goliath" match of fists. His iron strength and killer left hooks allowed Dempsey to beat Jess Willard in 1919, leaving the giant bewildered and shattered. This victory awarded Dempsey both the heavyweight title and the nickname of the "Manassa Mauler, " the name that soon haunted potential opponents all around the country. Dempsey became a ring warrior through his tough defense of his title six times in just seven years. In most of his matches, there were no survivors.
92 yJuly 2, 1921. Jack Dempsey vs Georges Carpentier.
Boyle's Thirty Acres, Jersey City, New Jersey, United States. The first million dollar gatein #boxing history. First boxing match broadcast live on the radio.
---