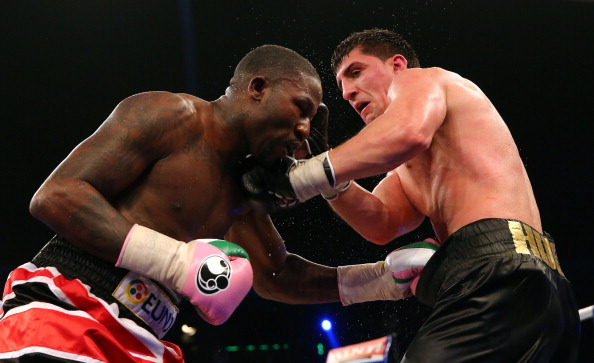 Former world champions Ola Afolabi (22-4-4, 11 KOs) and Marco Huck (38-3-1, 26 KOs) will square off for the fourth time this Saturday. The main event bout is scheduled for 12 rounds and take place at the Gerry Weber Stadium, Halle, in Nordrhein-Westfalen, Germany. The two will fight for the IBO cruiserweight title that Afolabi won in his last fight. Rematches are common in boxing but a fourth fight against fighters at this level is not all that common. The score is usually settled within two or three fights. The two fighters enter their fourth encounter coming off of totally opposite results.
Huck made his United States debut in his last fight versus unbeaten Krzysztof Glowacki of Poland. Huck entered the bout with an opportunity to break the cruiserweight record for defenses he shares with Johnny Nelson of England which is 13. Huck had not fought in about a year mostly due to a reported promotional dispute. It looked like business as usual when Huck dropped Glowacki in round 6. Glowacki managed to beat the count but it looked like it was just a matter of time before Huck finished him off. This was not the case as Glowacki managed to get out of the round and actually was fighting back hard. Things took a turn for the worst for Huck in round 11. Glowacki dropped Huck who beat the count. A few moments later Glowacki finished him for good and just like that Huck's reign was over and Glowacki the new world champion.
Afolabi had an interesting 2015 that saw him face two of the top names in the cruiserweight division in Victor Ramirez of Argentina and Rakhim Chakhkiev of Russia. Afolabi as accustomed took on both in their native homelands. Afolabi fought Ramirez fairly evenly during their fight but point deductions and Ramirez's activity tilted the fight in favor of Ramirez by decision in the end. Afolabi was a heavy underdog entering his fight with Chakhkiev but this did not stop Ola from knocking out Chakhkiev. Afolabi claimed the IBO world title with his victory over Chakhkiev.
This will be the fourth fight between Huck and Afolabi but only Huck has won fights in this series. The first fight was a close decision win for Huck. The second fight was a disputed draw that many felt Afolabi deserved the decision. The third but was a majority decision for Huck. Its becoming quite apparent that each time these two fight that it's going to be a close fight. The fans should be entertained to another very competitive fight between the two on Saturday.
---