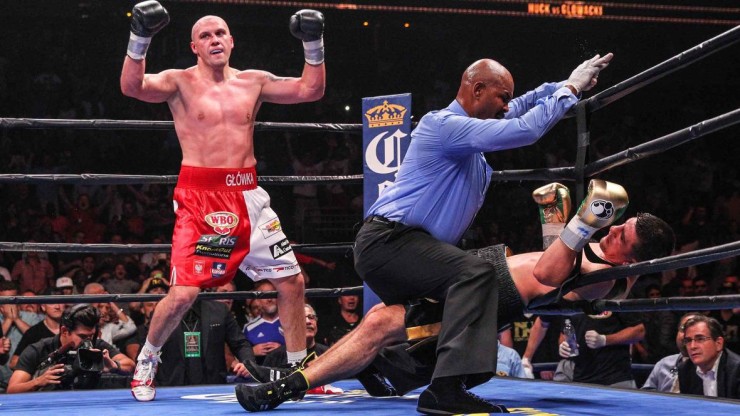 Heading into his bout this past Friday most of the talk was about WBO cruiserweight champion Marco "Käpt'n" Huck  (38-3-1, 26KOs) and his United States debut. There was very little attention focused on his mandated WBO #1 ranked challenger Krzysztof Glowacki  (25-0, 16KOs) of Poland. Huck was a heavy favorite and rightfully so. Glowacki had not fought anywhere near the competition of a Huck or opponents that Huck had faced. There was even talk of Huck moving up to heavyweight once again to challenge for the world title.
All that talk came to a complete halt as Glowacki pulled off the upset and stopped Huck in round 11. Glowacki was behind on all the judges official scorecards at that time of the stoppage. Huck looked off his game from the opening bell. Glowacki was very sharp. Half way through the fight it was anyone's fight. Then in round 6 Huck connected with a left to the temple that sent Glowacki to the canvas. It seemed that the fight would be over for sure. Glowacki beat the count but was on very unsteady legs.  Credit referee David Fields for giving Glowacki the chance to continue on. A different referee may have stopped the fight at that point. Glowacki instead of holding on came out swinging and got himself through the round. Huck seemed to take control of the fight after scoring the fight changing knockdown. Then in round 11 Glowacki dropped Huck as Huck was pulling back. Huck beat the count but was visibly still shaken. Glowacki seized the moment and put Huck down again with a barrage of punches that had him laid out on the ropes where Fields waved the fight off seconds later.
Huck may have lost the fight but may have been in a fight of the year winner. Both fighters were making their U.S. debuts. It was a homerun for sure. A rematch would be more than welcome in the U.S. and maybe even Showtime would want to pay a handsome some to have it aired on their network this time. They definitely showed that together they could make a very good televised main event in terms of action. Glowacki immediately jumps to the top of the cruiserweight list as Huck was considered the top guy by many. He has a lot of options now that he and his team can take their time in carefully analyzing. Huck will have to think a little more cautious on his next step as another loss could be devastating to his career at this stage.
---