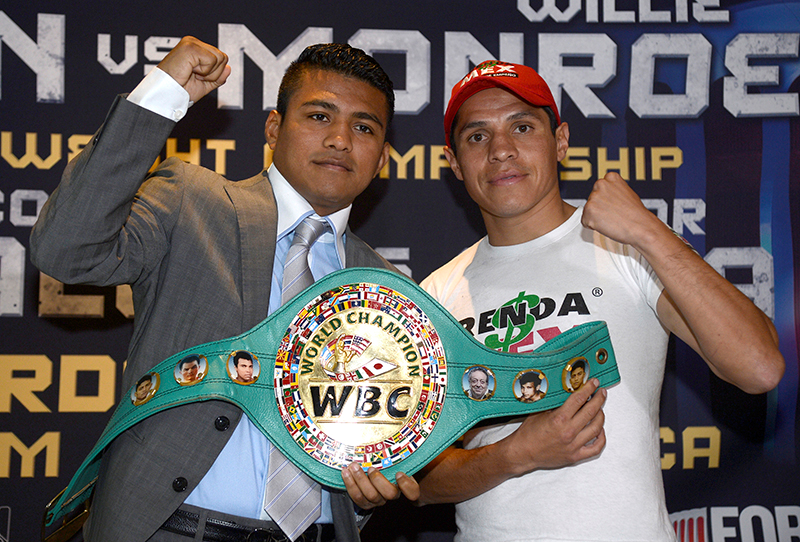 Most of the attention in mainstream boxing will be on Gennady Golovkin's main event vs. Willie Monroe Jr. this Saturday.  It's for a good reason as Golovkin has been on quite the tear the last 2 years. He has been delivering a highlight reel of stoppages and currently is riding a 19 fight consecutive knockout streak. The co feature will be unbeaten three time  world champ Roman Gonzalez (42-0, 36 KOs) of Nicaragua vs. former world champion Edgar Sosa (51-8, 30 KOs) of Mexico. The names may not ring a bell to the casual fans but the hardcore fans are familiar with both fighters.
Gonzalez without a doubt is the A side in this fight.  This is no disrespect to Sosa at all who in reality has the better overall resume. Sosa has fought and beat the better competition. Gonzalez is the younger of the two at just 27 and in his prime years. Sosa is 35 years old but still fighting at a very high level. Many of Gonzalez' followers have been relegated to watching replays of  his fights on youtube over the years. He fights alot in Japan as he is promoted by top Japanese promoter Akihiko Honda (Teiken Promotions). Gonzalez has put up some very staggering numbers. Aside from his impressive record he has won world titles in three different weight divisions.
Sosa is a very crafty fighter but keeps it exciting as he counters with eye catching punches that thrills the viewers. He has pulled off the upset more than once in his career. He has a tall order in front of him in Gonzalez. One thing that is likely will be for Sosa to make a real fight of it. He will likely not be fazed by being on such a big stage. It's more likely that this will push him to perform at the maximum level.
This fight also can be a major breakthrough for the flyweight divisions. There are some really exciting fights in these divisions that are going on year round that the majority of the fans don't get to see. If Gonzalez wins in an exciting fight as he is heavily favored to do then there is the possibility that he could be asked to return. It seems it will take a very entertaining for this to happen. The styles of both fighters mesh very well. Their fight could very much be the best of the night. Flyweights around the world watching are hoping so .
---