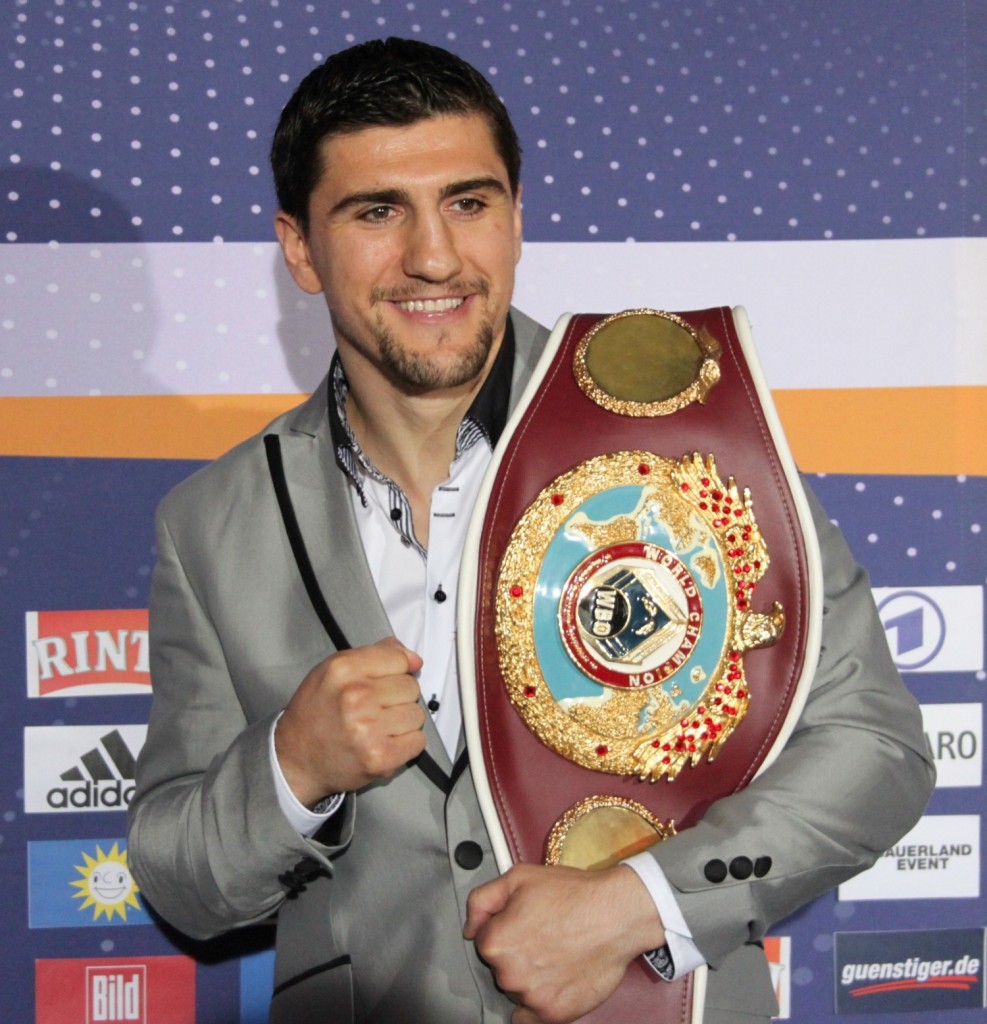 WBO cruiserweight champion Marco "Käpt'n" Huck  (38-2-1, 26KOs) of Germany will make his long awaited U.S. debut June 12th. Huck will defend his title against unbeaten WBO #1 ranked Krzysztof Glowacki  (24-0, 15KOs) of Poland. The proposed location of the bout is in Chicago, Illinois though no venue announced as of yet. Both fighters will be making their U.S. debuts but it will be Glowacki who will have the hometown advantage with Chicago having a large polish population.
Early setback & redemption
Huck was born in Serbia but has lived in Germany  for many years. He is a citizen of both countries. He made his pro debut in Gemany in 2004 and would run off 19 consecutive wins leading up to his first worl title attempt in 2007.  Huck would challenge IBF world champion Steve Cunningham in Germany. The much more experienced and proven Cunningham entered the bout as the underdog. Huck got off to a good start but Cunningham settled in and rallied back. The fight was closely contested but Cunningham closed strong hurting Huck in the end where Huck's corner threw in the towel in the 12th and final round. Huck would real off six straight wins following the Cunningham loss leading him into a showdown with WBO Cruiserweight world champion Victor Ramirez of Argentina. Huck would go on to decision Ramirez decisively in Germany and become a world champion for the first time.
Heavyweight experience
Hardcore boxing fans have known about Huck for years. His style is very different from the traditional European way of boxing. Huck attacks with a ferocity that isn't even close to being seen on the premium networks in the U.S. at the top level. His method of fighting requires quite a bit of endurance as his offensive bursts can happen multiple times throughout a round and not just when the bell sounds indicating 10 seconds left in a round. He really puts his opponents in defensive mode whether they want to or not. It's either that or they are forced to risk exchanging with him. Which can be dangerous as Huck has shown very good punching power and a very good chin. This was quite evident when he stepped up to the heavyweight division in February, 2012 and challenged WBA heavyweight champion Alexander Povetkin of Russia. The bout took place in Germany and for those who got the opportunity to see the fight were entertained to say the least. The underdog Huck pushed Povetkin like no other had at that point of his career. He rocked Povetkin a number of times and took the best Povetkin had. In the end the judges had Povetkin the winner by way of Majority decision. Some felt Huck deserved the nod and Povetkin's heavyweight title including former Povetkin trainer & TV Analyst Teddy Atlas. It wasn't meant to be and Huck would return back to the Cruiserweight division where he was still a  world champion.
opportunity knocking
From a personal standpoint Huck can break the record for most consecutive world title defenses at Cruiserweight, held by former champion Johnny Nelson. Aside from that there is alot to be gained by winning in an exciting fashion in Huck's first fight in the U.S.  as it's a new market for him to put his explosive style on display. Even the casual fan who tunes in can appreciate the way Huck fights as it is quite entertaining.  The way Huck performed against Povetkin it's not far fetched to see him make another attempt at a heavyweight crown.  The heavyweight division is wide open. Someone who fights the way Huck fights would be a welcome addition to the division.
---