The Ameristar Casino, Saint Charles, MO
Showtime
Jonathan Cepeda (12-0) vs. Lamar Russ (10-0)
Jonathon Cepeda
Boxing360 Picks:This is a classic Shobox fight. Both men can win. Russ is the younger, taller man. We'll find out who is the real fighter and who has a built-up record. We'll flip a coin and call it for Cepeda.
Jose Pedraza (10-0) vs. Allan Benitez (7-1)
Boxing360 Picks: Pedraza is a promising fighter. This feels like a showcase fight for a fighter quickly learning his craft. Let's call it in 6 rounds for Pedraza.
The Bell Centre, Montreal, Canada
Wealth TV
Adonis Stevenson (18-1) vs. Don George (23-2-1)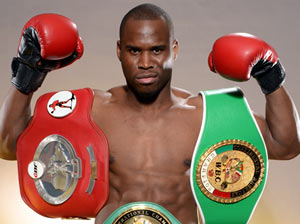 Boxing360 Picks:Adonis Stevenson can flat out punch. So can George. This is not going the distance. Stevenson can move and punch off the back foot. George needs exchanges and the ropes to get off his shots. This works in the one-punch KO artist Stevenson's favor. Adonis by KO.
David Lemieux (26-2) vs. Alvaro Gaona (11-1)
Boxing360 Picks: Lemieux hasn't looked top shelf in some time. Gone is long-time trainer Russ Anber. It's hard to imagine things getting worse for him. We have a feeling that he'll get back on the right track in this fight. Lemieux by KO.
---