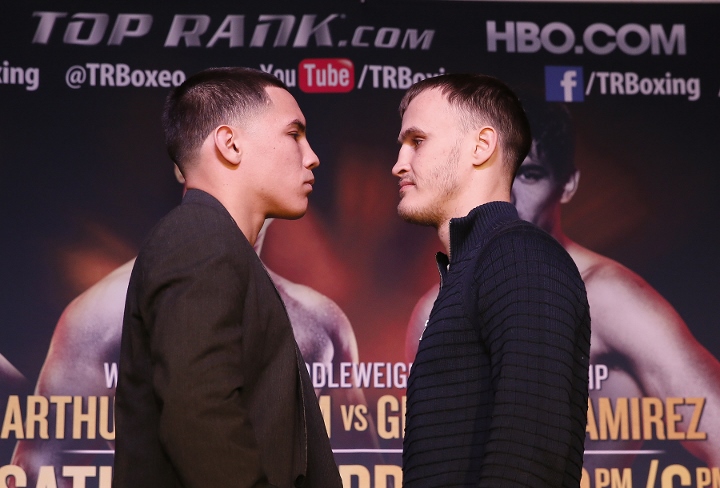 Our pick last week came from the matchup between veterans Francisco Santana (23-4-1, 12 KOs) of Santa Barbara, California and Ed Paredes of the Dominican Republic (36-6-1, 24 KOs). The bout was the main event last Saturday at the Oceanview Pavilion, in Port Hueneme, California. The bout was scheduled for  10 rounds in the welterweight division. The fight was aired on Unimas with Top Rank promoting. It was the 2016 debut for both fighters.
Santana was fighting within a short driving distance of his hometown. He has consistently fought well in front of the locals and this was no exception. Santana was in control of the fight from beginning to end. Paredes as is his nature continued to give his all firing back at Santana. There would be no knockout for Santana on this night as the durable Paredes was not going to be stopped. In fact Paredes has only been stopped once in 43 professional bouts. That one stoppage was nearly a decade ago. The three judges all had it right in the end with Santana winning by unanimous decision. We were winners as well as Santana was our pick of the week.
Our pick this week comes from the matchup between unbeaten Oscarl Valdez(18-0, 16 KOs)  and former world champion Evengy Gradovich (21-1-1, 9 KOs). The bout will take place on the HBO PPV televised undercard portion of the third bout between Manny Pacquiao and Timothy Bradley. Gradovich vs Valdez is scheduled for 12 rounds with the vacant WBO NABO featherweight title on the line. The site of the event will be the MGM Grand, Grand Garden Arena, in Las Vegas, Nevada. The card will be promoted by Top Rank.
Valdez was a very accomplished amateur and has totally looked like the real deal since turning professional. All but two of his professional fights have resulted in knockout victories. Gradovich has beaten the odds. He has not shown anywhere near the power of Valdez but it is he who has won a world title. He also successfully defended it four times. This is what makes this fight so intriguing. Gradovich is  already proven where Valdez has something to prove in the opinion of some. We are looking to extend our streak and  feel that Valdez is up for this challenge  to defeat Gradovich in a hard fought bout. Valdez is our pick of the week.
Disclaimer: Boxing360's Pick of the week is strictly for entertainment purposes only
---