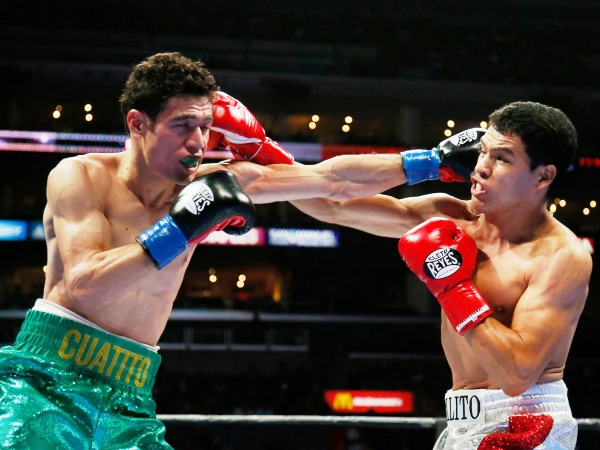 We went with the rematch between WBA Super world super middleweight champion Fedor Chudinov (14-1, 10 KOs) of Russia and four-time world champion Felix Sturm (40-5-3, 18 KOs) of Germany as our pick of the week last weekend. .Chudinov won the previous encounter about 9 months earlier. It was a split decision win but Chudinov seemed to have clearly won the fight down the stretch. The rematch appeared to be headed the same way but Sturm this time was strong down the stretch as was Chudinov. It was another close decision in the end but this time in favor to Felix Sturm who became a two division and now 5 time world champion. It was a loss for us as we had Chudinov as our selection for the pick of the week.
Our pick this week comes from the rematch between Julio Ceja (30-1, 27 KOs) and Hugo Ruiz. (35-3, 31KOs). The bout will take place this Saturday at the Honda Center in Anaheim, California. There first fight was a real thriller that took place last August a short distance away at the Staples Center in Los Angeles, California. Ruiz had Ceja down in round 3 but the bell seemed to save Ceja. A few rounds later in round 5 it was Ceja who put Ruiz down and moments later stopped him to come back and win the fight. Ceja was down on all three judges official scorecards at the time of the stoppage.
Both fighters have not fought since they fought each other. This time they will fight for the WBC full 122 pound world title. The former champion Leo Santa Cruz vacated the title having moved up to the 126 pound division. Ruiz seemed so close to defeating Ceja in their first fight. The question now is more of if he is more or less confident entering the fight based on how the last fight ended between the two. Ceja for his part should enter with his own confidence knowing that he was able to battle back and win after being hurt. Knockouts are not always the easiest to come back from especially when you're facing the person who knocked you out back to back. We are going with Ceja on this fight to be better defensively this time around in route to victory.
Disclaimer: Boxing360's Pick of the week is strictly for entertainment purposes only.
---