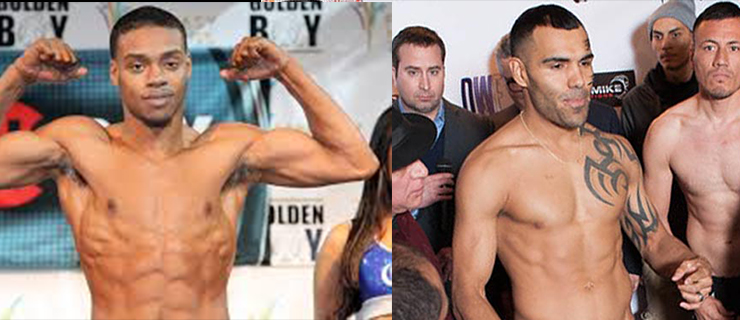 We have gotten off to rocky start since beginning our weekly pick of the week but this happens sometimes. We won't complain when we have correct predictions and the same goes for if were incorrect. Last week we picked WBA Featherweight Champion Nicholas Walters to stop unbeaten challenger Miguel Marriaga of Colombia. Walters won the fight and even dropped Marriaga but won by decision so that was a loss for us.
This week we are going with the fight between Errol Spence Jr. (16-0. 13 KOs) and Roberto Garcia (37-3, 23KOs). The fight is scheduled for 10 rounds in the welterweight division. Our pick is Spence Jr. who will be fighting his toughest test to date. Spence Jr. is a heavy favorite but were just going to select him to win as he is stepping up in class against a much more experienced fighter in Garcia who isn't that far past his prime.
Garcia is riding a 9 fight win streak but has not looked impressive his last two fights. In fact he was dropped in both of those fights. He wasn't in any trouble but none the less he was expected to dominate entering both of those fights. Garcia will enter the fight with Spence Jr. with an edge in experience and also has never been stopped in more than 40 professional fights. He is expected to bring Spence Jr. his toughest fight to date on paper at least.
Spence Jr. is being seen by many as the next big thing in boxing and for good reason. He has the entire package of offense, defense, and power. He is a southpaw but far from the boring slick stereotype that many are pegged with. He seems to really want to make a statement and an impressive win over Garcia would go a long way toward doing that.
Spence Jr. is a decisive favorite based on his skills that he has put on display in his most recent fights and the lackluster efforts of Garcia in his. Garcia is well aware that he is seen as the opponent in this fight and will approach it much different than he has his recent fights. Garcia likely will put forth a much better effort than he has of late. The problem is that Spence Jr. will likely perform better as well which is a scary thought considering his recent dominance. In the end we expect Spence Jr. to get his breakout win and to put the welterweight division on notice that he has arrived.
Disclaimer: Boxing360's Pick of the week is strictly for entertainment purposes only.
---