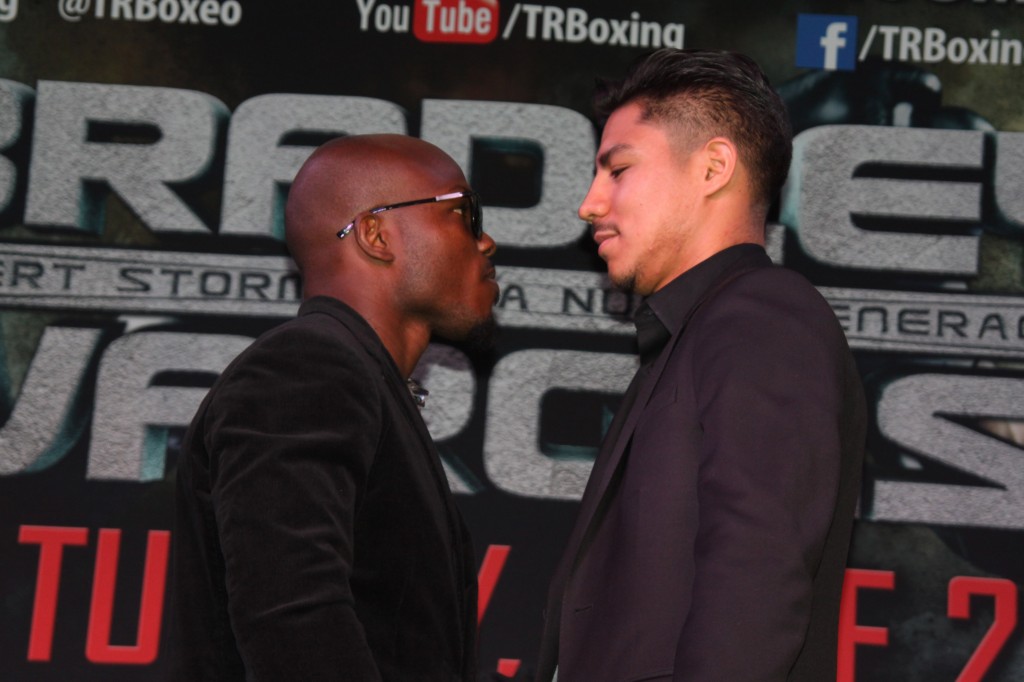 Our pick last week was Errol Spence Jr. to defeat Roberto Garcia. The problem was that Garcia pulled out of the fight for an undisclosed reason just days before the fight. Spence Jr. went on to fight late substitute Phil Lo Greco and stop him in round 2 but it doesn't count as a win for us. This week we have decided to go with a winner from this Saturday's HBO main event between former two-division world champion Timothy Bradley Jr. (31-1-1, 12KOs) and unbeaten former world champion Jessie Vargas (26-0, 9 KOs). The bout will take place this Saturday at the StubHub Center in Carson, California. It will be a scheduled for 12 rounds main event with the WBO interim world welterweight title at stake.
Vargas was one of the hottest prospects out there in boxing a few years back. It didn't hurt matters that he was fighting on televised undercards of Floyd Mayweather Jr. undercards. Vargas was under the Mayweather Promotional Banner at the time. He has since moved on and now signed promotionally with Top Rank. He became world champion under Top Rank winning the title in Las Vegas, Nevada where he was born and raised.
Bradley is also with Top Rank but has had far more success with the promotion since he joined them. This is highlighted with his win over superstar Manny Pacquiao a few years back. He followed that up with a win over Juan Manuel Marquez. These wins proved that he is fighting at the elite level in boxing. He truly has earned his spot to be on boxing's current pound for pound list.
Vargas is still unbeaten but in his 7 fights with Top Rank he has not looked as spectacular as he did previously. Obviously this can happen as the competition gets tougher but Vargas hasn't registered one knockout in either of those fights. A few of those fights were really closely contested but to his credit he pulled out the victory in the end. Bradley is actually winless in his last 2 fights. He was dealt his first career loss to Pacquiao in their rematch last year. He then fought to a draw with world ranked Diego Chaves of Argentina in his last fight. It was a close fight but many observers felt that Bradley deserved to win.
The matchup itself is a very good matchup because both guys like to mix it up and take chances. Neither is a big puncher which could lead to an all out action fight that goes the full 12 round distance. Bradley is deservingly the favorite as he has fought and beat by far the better competition. He has also been fighting at 147 for a good while now. Vargas fought at 147 earlier in his career then dropped down to 140 in the last few years where he won his world title. Bradley throughout his career has been very consistent. He is always in excellent shape and always comes to fight. In fact at this very same venue he had the fight of the year in 2013 which he won vs. Ruslan Provodinov. This was when the venue was called the Home Depot Center. Vargas has seemed to regress a bit of late. Almost like he peaked to soon. Vargas has been close to losing a few times in his career but again to his credit he has been able to get the job done in the end. Bradley has only lost to an elite fighter and has beaten many fighters on Vargas' level or better. We expect a good fight but
feel that Bradley will be able to give Vargas his first career loss on Saturday night.
Disclaimer: Boxing360's Pick of the week is strictly for entertainment purposes only.
---