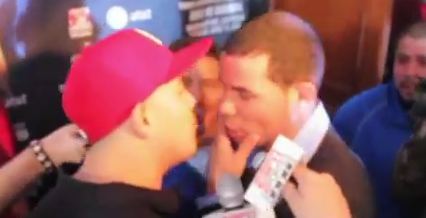 It's official. Boxing buzzkill scuttlebutt is that the April 14 HBO Brandon Rios vs. Yuri Gamboa is off. Instead, as reported by Steve Kim, Dan Rafael, Jamie Motta and Kevin Iole  fighter Richard Abril, the dude who got in Rios' face at the Miami press conference will step in.
According to Iole, the close to 4,800 fans who bought tickets to the fight at Mandalay Bay have until March 23 to get a refund.
The bottom line is that the fans lost a great match-up and it is no one's fault but Gamboa. Top Rank did its job. Rios stepped up as usual. The question is  do we have a great fight in the making between Abril and Rios? Top Rank is working out the TV deal so we know we'll see it.But what will it be like? Will it equal to what we lost?

They have a common opponent in Miguel Acosta. Rios knocked him out in ten rounds back in February. Abril beat Acosta in October, knocking him down three times for an interim WBA belt. Add in that Abril is a Cuban who actually wants the fight plus the brawl and maybe just maybe we have a fight worth seeing.
Fight fans, the floor is yours. What do you think of Rios vs. Abril?
---