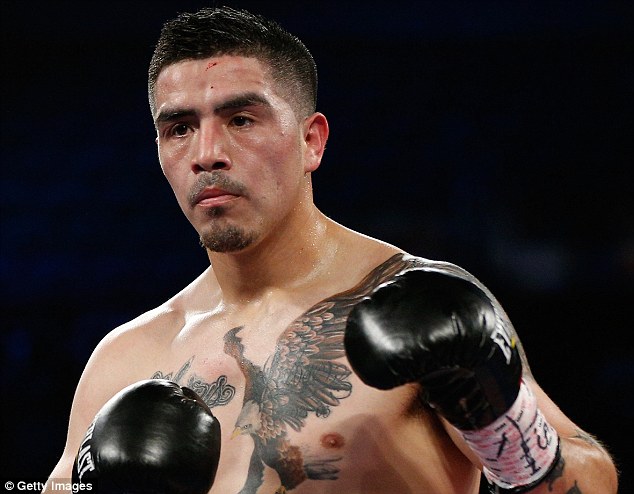 In its most basic sense, boxing is two men or women wearing padded gloves trying to inflict the most punishment humanely possible as his opponent.  We can call it the sweet science, an art form or even poetry in motion but at the end, they are just trying to beat each other into a bloody pulp.  No other current fighter understands, accepts and even enjoys it more to its core than Brandon Rios.
After an impressive amateur record in which he only lost thirty-five bouts out of 265, Rios went pro in the summer of 2004.  Even in the amateurs, Rios was known as a tough come-forward fighter who threw punches non-stop and that is what caught the eye of former super featherweight champion Robert "Grampa" Garcia who invited the brash Rios to California to train.  Rios jumped at the chance to go west.
After defeating Anthony Peterson in a WBA lightweight title eliminator, Rios captured the world title by beating Miguel Acosta in 2011.  Rios defended the title three times against Urbano Antillon, John Murray and Richar Abril.  After having trouble with the scale more than once in the 135 lbs division, Rios made the smart decision to move up to the light welterweight ranks where he beat Mike Alvarado in a classic fight of the year brawl.  "Bam Bam" suffered the first loss of his career in his next fight last March in a rematch in which Alvarado out-boxed him to capture the interim WBO light welterweight.
Despite losing against Alvarado, Rios got the nod from his promoter Top Rank to face Filipino Congressman Manny Pacquiao this weekend in Macau, China.  The bout will be for the vacant WBO International welterweight but beyond that, this fight will be for the future of each its participants.  Pacquiao is coming back the most devastating loss of his career, a knockout at the fists Juan Manuel Marquez which laid him out for the better part of two minutes last December.  This fight against a young, strong and hard charging fighter will determine if Pacquiao has the chin left and the rest of his thirty-four body strong and nimble enough to compete at the highest level of the sport.
For Rios, it is more about economics.  He has stated time and time again in the pre-fight promotion that he wants the Filipino star's place in the totem pole of the sport.  Rios understands that if he beats Pacquiao in the biggest stage of his career, it is only expected that he would become a household name.  Unlike Timothy Bradley who achieved the feat in June of 2012, Rios has a much more marketable style and an open if rough personality that makes him more accessible than the undefeated Bradley.
In boxing, with popularity comes dollar signs. It is no secret that two of the most popular fighters in the sport, Saul "Canelo" Alvarez and Julio Cesar Chavez Jr, are also two of the most criticized for their lack of skill despite both being former world champions.
Many say that Rios is tailor made for Pacquiao, a new weight class and not much of a defense, Brandon is open for Pacquiao's straight southpaw punches coming down the middle.  It's just a matter days to discover if Rios' chin will be sturdier than Pacquiao's.
---