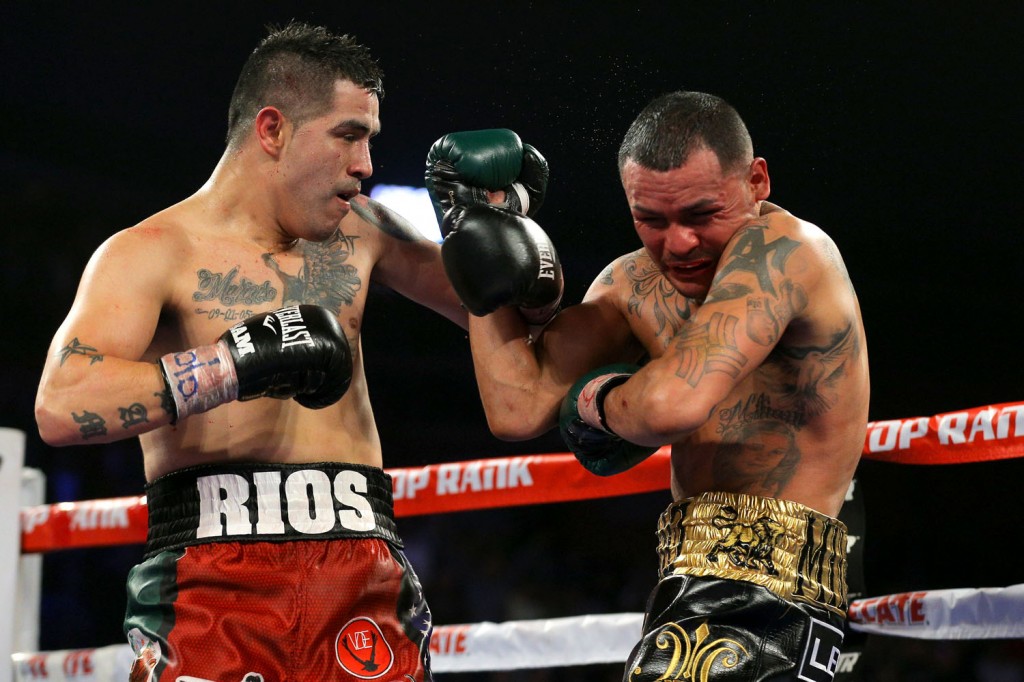 As predicted two trains crashed into each other on Saturday night at the 1st Bank Center in Denver, Colorado, live on HBO.  What was expected to be a war turned into a train wreck as former world champion Brandon "Bam Bam" Rios completely annihilated hometown fighter "Mike High" Mike Alvarado in three rounds.
It was all Rios from the opening bell as he swarmed on top of Alvarado as he landed power punches from close range to the body and head.  Rios' uppercuts looked deadly as they snapped Alvarado's head back as the little over five thousand fight fans turned on the local fighter and began to chant for Rios while applauding his prowess.  By the second round Alvarado's face was a mask of red as the accumulating punches were making a difference.  There was no let-up from Rios and in the third after a multiple punch combo in the middle of the ring Alvarado went down to one knee.  He beat the count but the end looked near.  Once the round was over the ringside doctor made his way to the Alvarado corner and looked deep into his eyes with a small flashlight. As he held two fingers up and asked Alvarado to tell him how many there were, Alvarado focused and answered "four".  The doctor immediately informed the referee and promptly stopped the fight.
In his post-fight interview with HBO's Jim Lampley Alvarado admitted that he did not train as he should have and the legal problems which have sufficed lately didn't help.  Everybody involved with Alvarado don't seem to know what is next for him but one thing that he was sure of was that he is not done yet and will continue his boxing career.
As for Rios, even his promoter Bob Arum admitted that he is ready for only big fights from here on out.  As soon as the referee waived off the bout, the twitter-verse was on over drive matchmaking and the fighter the majority of the fans decided they would like to see Brandon Rios face is Juan Manuel Marquez.
Marquez is coming an impressive win over none other than Mike Alvarado in his last fight. The forty-one year old Marquez is in hot pursuit of a fifth title in as many divisions and might not be interested in facing a young lion in Rios plus more for the simple fact that "Bam Bam" doesn't hold a world title as of the moment. With the win over Alvarado, Rios captured the vacant WBO international welterweight title, the same title that Marquez captured with his win over Alvarado.
There is no question that Rios would be more than happy to lock horns with a legend such as Marquez. Even though Rios has faced one of the best fighters of our generation, Manny Pacquiao, that outing didn't really go as expected but he might have a better chance against Marquez since the Mexican is getting long in the tooth and is not as quick as the "Pacman".
Hope it happens the sooner, the better.
---