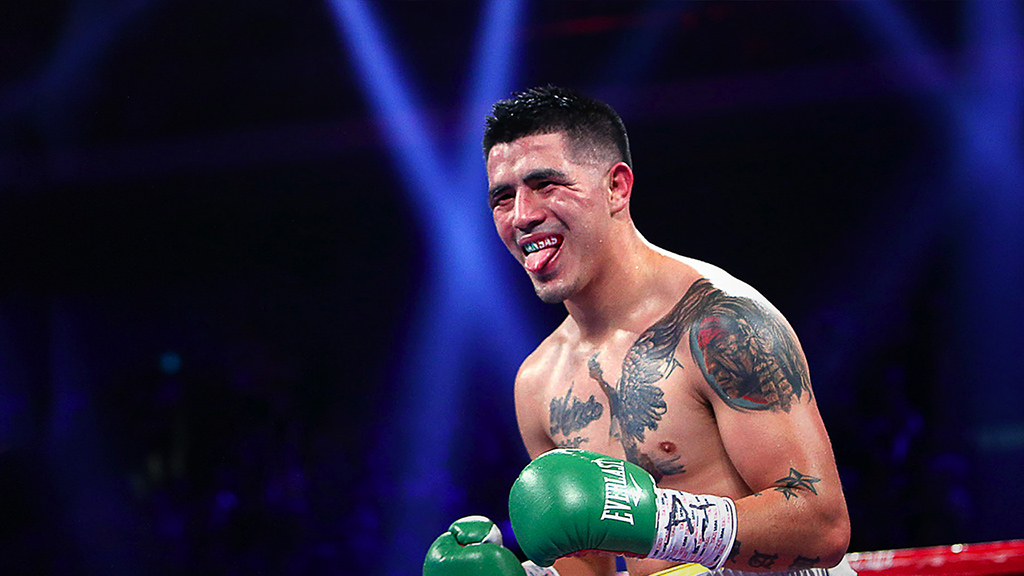 In another example of why boxing is the theatre of the unexpected, welterweight Diego Chaves of Argentina finally landed in Las Vegas to face former world champion Brandon "Bam Bam" Rios live on HBO this Saturday night from the Cosmopolitan Hotel.  The Rios-Chaves ten-round bout will share the bill with the WBA junior welterweight Jessie Vargas defense against Russian Anton Novikov as well as Sergey Kovalev against Blake Caparello from Atlantic City in New Jersey for the WBO light heavyweight title.
It was announced last week that Chaves was having trouble securing a work visa out of Argentina and ran the risk of not being able to enter the United States in time for his second showing on U.S. airwaves.  His first time last July from San Antonio, Texas, and on Showtime when the twenty-eight year old Chaves gave all he had against knockout artist Keith "One Time" Thurman, going down once in the ninth and tenth rounds, to get stopped.  Despite the disappointing showing, Chaves showed that he had all the heart fellow countrymen Lucas Matthysse and Marcos Maidana have displayed to become the darlings the American boxing audience and because of that Chaves got the call to face Rios.
Rios is coming off a disappointing lopsided twelve-round loss to Manny Pacquiao late last year from Macau, China. In the fight Rios looked confused and by the midway point of the fight looked as if he was ripe for the taking but was able to tough it out against Pacquiao.  The loss was the second in a row for Rios. Eight months later he suffered the first loss of his career in his rematch against Mike Alvarado.
Rios needs a win.
The question is if Chaves is the man to get it against.  Chaves is physically strong but more importantly strong-willed who gave a young lion in Keith Thurman all he could handle until the Floridian was able to figure out the puzzle and put him away.  It works in Rios 's favor that Chaves has had a tumultuous last couple of days and landing in Las Vegas after a multiple hour flight the day before the weigh-in can't help.  But will it be enough to disrupt Chaves' focus or just motivated the Argentinean all that much more.
If we have learned anything from those who most recently came before from Chaves, Marcos Maidana and Lucas Matthysse, is that you can never count a good gaucho out.  Maidana proved it when he had a tough time against Jesus Soto-Karrass and more recently Josesito Lopez but still managed to knock them out.  Matthysse did in his last fight against John Molina Jr when it took him eleven out of twelfth rounds to dispose of him after meeting the canvas twice, once in the second and against in the fifth.
With a loss here Brandon Rios would probably fall out from the elite level of boxing.  Will we see him again on a major network like HBO?  It would be questionable.
---