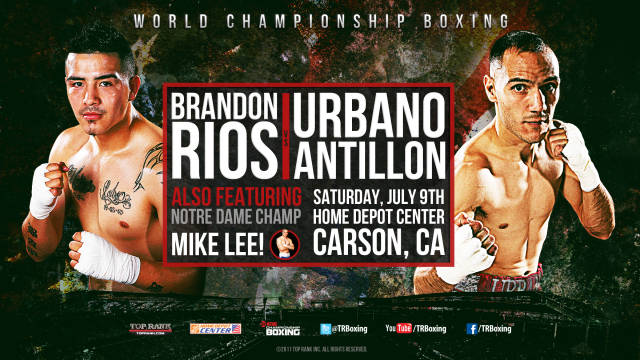 This Saturday it's on. In a fight that will live up to the hype, lightweight Brandon "Bam Bam" Rios takes on Urbano Antillon for Rios' title. It's his first defense and Antillon's third try at a championship. What is more important is that neither guy likes each other.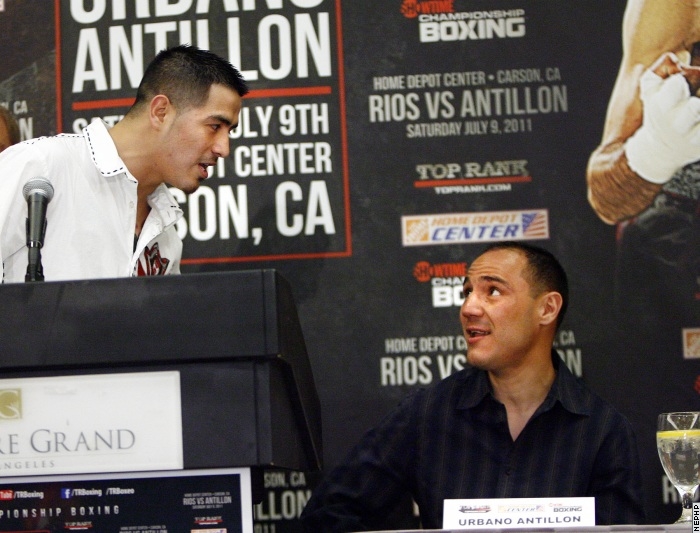 "It's not like I hate him, but I don't think we like each other. I don't like him," Rios said at the media day this week. "He says he is going to test me and that I'm not ready for what he is going to bring to the table. I hope he tests me, but he had better be bringing a really big table. If it's a small table, he is definitely getting knocked out."
Apparently Antillon made some mention of Rios' wife at the press conference to announce the fight and now Rios wants to make Antillon pay. Urbano blew it off and thinks that Rios is just looking for a reason to want to fight.
"He's an idiot for continuing to still talk about what he says I said about his wife," Antillon said. "and I'm surprised he's still talking about it. He's an immature kid who is going to get taken to school."
Both guys come forward but it's Rios who is the younger stronger man. He thinks that Antillon isn't even in his class.
"I worked very hard to win the belt.  No way I'm giving it up in my first defense. Not against this guy," Rios said.
To their trainers, Robert Garcia and Abel Sanchez, all the bad blood is just par for the course.
"I know Brandon and it is not a big deal for him to be mad at an opponent going into a fight," said Garcia. "Actually, it's a good thing for him. If it wasn't, I would worry about it, or say something. But Brandon needs it and it won't affect how he performs. I would be more concerned if he wasn't on edge before a fight."
Sanchez said that the anger Rios is displaying can only get in his way.
"This is going to be a great fight for as long as it lasts," said Sanchez. "I just hope Rios is ready for it. If he needs to come in with a big chip on his shoulder, if that's what is motivating himself for this fight, then I think he's making a mistake. I definitely think that's been a distraction for him."
No matter what the bad blood means or doesn't, this is can't miss TV. Both men are promising stoppages.
"I feel very good, I'm ready to fight and I'm totally relaxed and focused," said Rios. "This is a great fight for television and the fans. We are both going to be getting after each other."
"I am totally confident and ready and deep down know I am going to win this fight. Rios is a strong guy but he leaves himself wide open a lot," said Antillon. "I've put in the time, I've put in the work and I am ready to become world champion. I hope Rios is prepared to bring his best because that's what he's going to get from me. It will just be a matter of time before I stop him."
Looking at their records, Rios, 27-0, with 20 KOS, is undefeated but has been hurt before.
What say you?
---