Today in Boxing History: May 31, 1938
Henry Armstrong W 15 Barney Ross, NYC.
Armstrong Wins World Welterweight Title.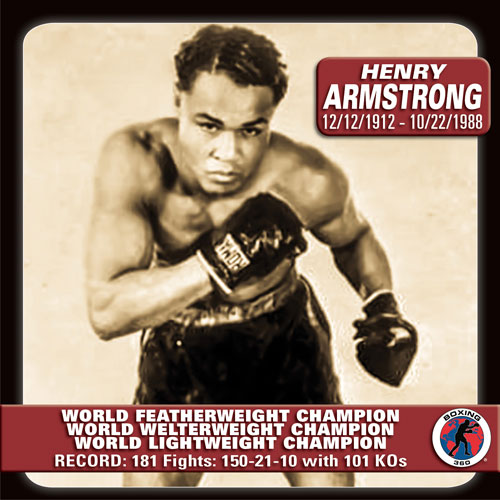 Armstrong captures the welterweight title just seven months after capturing the World Featherweight Title.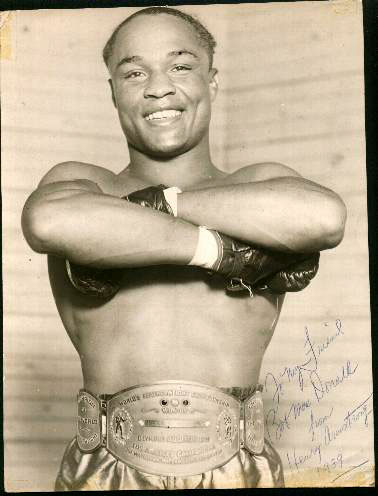 Henry Jackson Jr. (December 12, 1912, Columbus, Mississippi – October 22, 1988, Los Angeles, California) was an American professional boxer and a world boxing champion who fought under the name Henry Armstrong. He is universally regarded as one of the greatest fighters of all time by many boxing critics and fellow professionals.
http://www.youtube.com/watch?v=gL_viXLxrm8
Henry Jr. was a boxer who not only was a member of the exclusive group of fighters that have won boxing championships in three or more different divisions (at a time when there were only 8 universally recognized World Titles), but also has the distinction of being the only boxer to hold three world championships at the same time. He also defended the Welterweight Championship more times than any other fighter.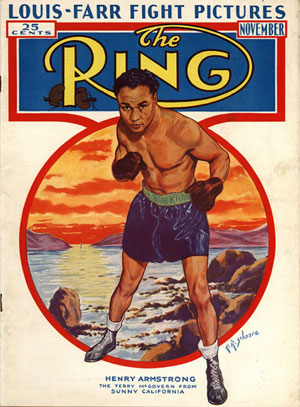 RING Cover: Nov 1937: Henry Armstrong
In 2007, The Ring ranked Armstrong as the second-greatest fighter of the last 80 years. Bert Sugar also ranked Armstrong as the second-greatest fighter of all time.
Armstrong was named The Ring Fighter of the Year in 1937.
Armstrong defended the World Welterweight Championship a division record 19 times.
Armstrong was 27-0 with 26 knockouts in 1937, 14-0 with 10 knockouts in 1938, and 59-1-1 with 51 knockouts from December 1936 to October 1940.
Armstrong defeated sixteen world champions.
After he quit boxing, he became an ordained minister and devoted himself to underprivileged children.
Inducted into the International Boxing Hall of Fame in 1990.

Ranked 2nd on The Ring's 2002 list of The 80 Best Fighters of the Last 80 Years.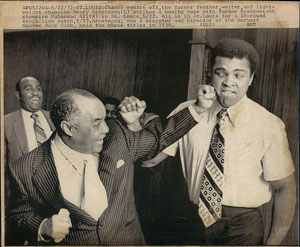 22 May 1972 (St. Louis MO): Henry Armstrong&Muhammad Ali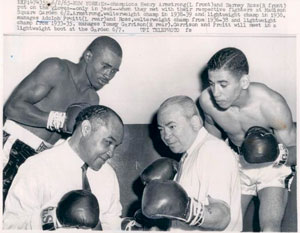 Henry Armstrong, Barney Ross, Tommy Garrison, Adolph Pruitt: 2 June 1965
---