Boxing History: December 21, 1920 Joe Lynch W 15 Pete Herman Lynch wins World Bantamweight Title.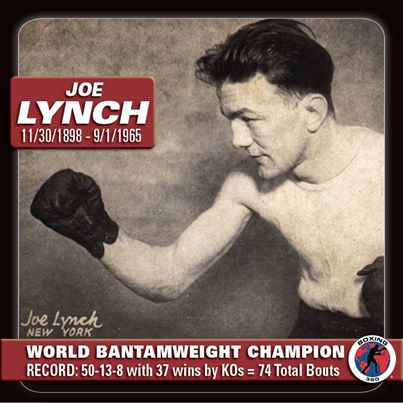 Madison Square Garden, New York, New York, USA
Referee: Patsy Haley, Judges: William Muldoon & Marty McCue
Joseph Aloysius Lynch (November 30, 1898 in New York, NY – August 1, 1965 in Brooklyn, NY) was an American Bantamweight boxer.
Twice world bantamweight champion (1920-21, 1922-24), Joseph A. Lynch fought several major bouts in New York, winning the title the first time from Pete Herman at the Garden Dec. 21, 1920. He lost the return match to Herman at Ebbets Field July 25, 1921. Lynch regained the crown at the New York Velodrome July 10, 1922, knocking out Johnny Buff in the 14th round. He lost it a final time to Abe Goldstein at the Garden Mar. 21, 1924. He retired in 1926 and became the postmaster in New City, N.Y.
In 1965 he drowned in an accident in Sheepshead Bay, Brooklyn. He was found floating in a New York City bay and died en route to the hospital. Foul play was suspected.
Joe Lynch was inducted into the International Boxing Hall of Fame as an Old Timer.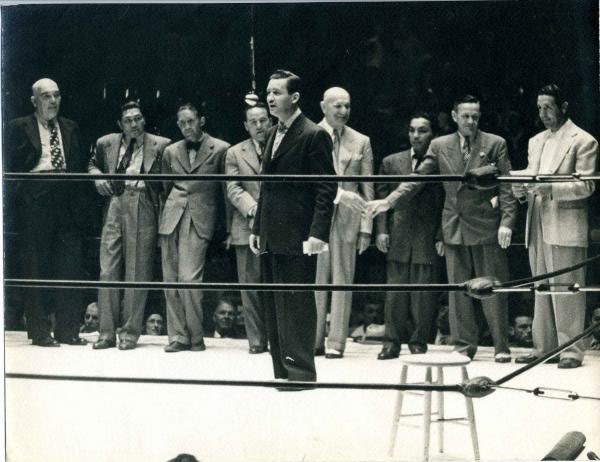 14 July 1943 (Hollywood Legion Stadium, Los Angeles CA): (from left) James J. Jeffries, Ceferino Garcia,
Mushy Callahan, Jimmy McLarnin, Jack Root, Baby Arizmendi, Willie Ritchie and Johnny Indrisano. Joe Lynch
is at the microphone.
---