Boxing History: July 16, 1926 Jack Delaney W 15 Paul Berlenbach, Brooklyn. Wins world light-heavyweight title.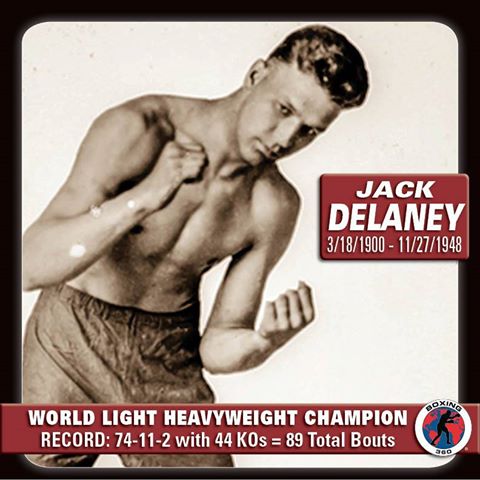 Jack Delaney (March 18, 1900 – November 27, 1948) was a light heavyweight boxing champion of the world and contender for the heavyweight crown. One of the most popular fighters of the 1920s, the handsome French Canadian was born Ovila Chapdelaine in Saint-François-du-Lac, Quebec, Canada.
Delaney turned professional in the Fall of 1919. Delaney won the World Light Heavyweight title against Paul Berlenbach in June 1926, but relinquished his title a year later, without defending it, to pursue a career at heavyweight.
Delaney retired with a record of 74 wins (44 KOs), 11 losses, and 2 draws. After his boxing career he operated a number of businesses, ran a tavern in New York and refereed. He died of cancer in 1948.
Inducted to the International Boxing Hall of Fame in 1996
---