Today in Boxing History: June 2, 1924
Mickey Walker W 10 Lew Tendler, Philadelphia.
Retains World Welterweight Title.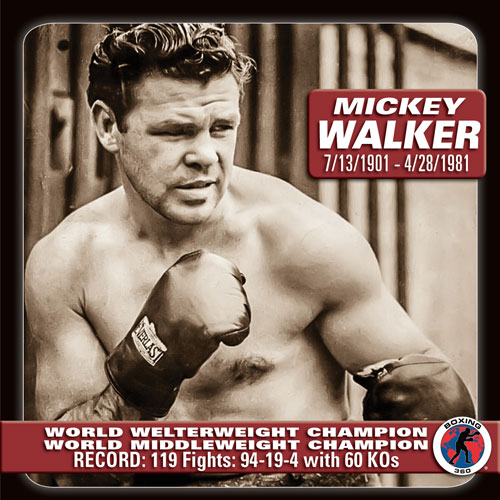 Edward Patrick "Mickey" Walker (July 13, 1903 (some sources indicate 1901) – April 28, 1981) was an American professional boxer and a former World Welterweight and Middleweight Champion. He was born in Elizabeth, New Jersey and was also an avid golfer and a renowned artist.
Walker had a record of 119 fights: 94 wins, 19 losses, 4 draws, his 60 knockout wins making him a member of the exclusive group of boxers who have won 50 or more bouts by knockout.
The only welterweight champion to ever become a successful contender in the heavyweight ranks, Mickey Walker was one of the bravest, toughest, and most popular boxers of his generation. A rugged scrapper with little use for ring technique or proper conditioning, Walker had tremendous success with his unpolished warrior's style. A two-division champion whose title reigns spanned nine years, he defeated five hall of fame opponents over his sixteen year career and also emerged victorious in ten matches against opponents who outweighed him by twenty pounds or more. He is routinely rated by historians as one of the greatest welterweights and middleweights in history, and was also a fine performer at both light heavyweight and heavyweight. Writers of the age constantly marveled at his small stature but superhuman toughness. Hence his entirely appropriate nickname, the "Toy Bulldog."
World Welterweight Champion
November 1, 1922 – May 20, 1926
World Middleweight Champion
December 3, 1926 – October 29, 1929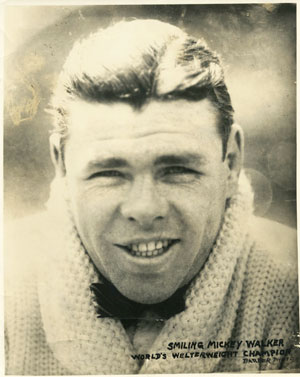 Walker opened a restaurant after retirement and his restaurant became a popular dining place in New York City. He became an accomplished painting artist, many of his works being exhibited at New York and London art galleries.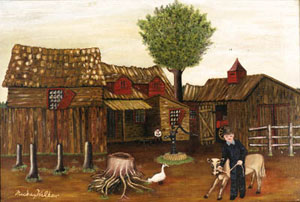 Inducted into the International Boxing Hall of Fame; the World Boxing Hall of Fame; and the New Jersey Boxing Hall of Fame June 15, 1969.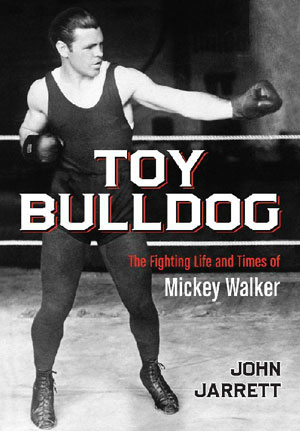 "Toy Bulldog: The Fighting Life and Times of Mickey Walker" byJohn Jarrett
---