Boxing History: September 12, 1941 Chalky Wright KO 11 Joey Archibald, Washington DC
Wright wins World Featherweight Title.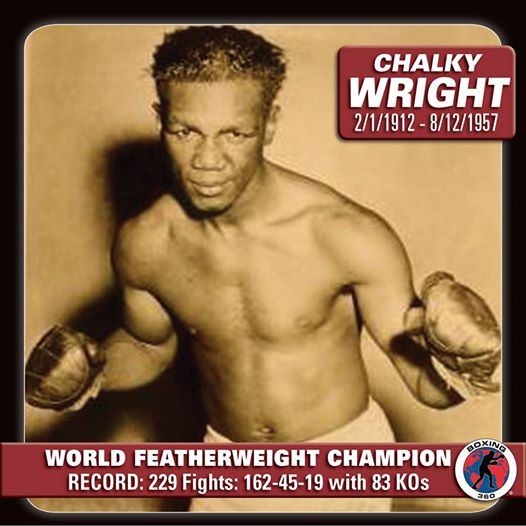 Albert "Chalky" Wright (February 1, 1912 – August 12, 1957) was an black American featherweight boxer who fought from 1928 to 1948. His career record was 161 wins (with 83 knockouts), 44 losses and 19 draws. In 2003, Wright made The Ring magazine's list of the 100 greatest punchers of all time.
Wright's boxing career started in the 1920s as a prizefighter more for survival than glory. His career as a professional boxer began February 23, 1928, at age 16 and later became known as Chalky Wright. In his debut fight he defeated Nilo Balles in four rounds. Wright began fighting on the East Coast of the United States in 1938. The five-foot, 7½-inch Wright was unusually tall for his 126-pound weight, giving him a long reach. By 1941, he was among the world's top featherweight boxers. He beat Sal Bartolo to get a chance at the New York State Athletic Commission featherweight championship then held by Joey Archibald. On September 11, 1941, Wright dethroned Archibald by scoring a TKO in the eleventh round. Wright successfully defended the title against former champion Harry Jeffra (TKO 10) on June 19, 1942, but lost his title on a decision to Willie Pep on November 20, 1942. In 1938, Wright also met the great Henry Armstrong, but was knocked out in three rounds. He fought for another six years after losing his title and finally retired March 9, 1948, after losing to Ernie Hunick when he did not answer the bell for the fourth round.
Wright's pre-match regimen was described as "unorthodox" by the Baltimore Afro-American:
For example, before the Terranova fight Chalky was in and out of the Hotel Theresa bar night in and day out for four days. He smoked evil smelling, twisted cigars. He drank freely of whatever his palate called for. He went where he wanted as late as 2 and 3 a.m., and then climbed into the ring at the Garden to put on a master exhibition of boxing and hitting power.
Honors
Inducted into the Ring Boxing Hall of Fame and the International Boxing Hall of Fame in 1997.
Made The Ring Magazine's list of the 100 greatest punchers of all time, in 2003.
The prominent boxing historian Herb Goldman ranked Wright as the number 24 all-time Featherweight.
Muhammad Ali paid tribute to Wright as one of the world's best fighters in his book "Muhammad Ali, the People's Champ." Page 79
On March 30, 2012, Wright was inducted into the Colton, California Sports Hall of fame.
In the May 9, 2012, issue of the "Willcox Range News", Wright finally got the recognition he deserved as a Willcox native son, who achieved national prominence.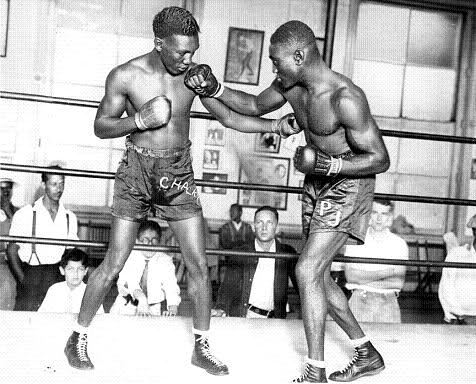 Chalky Wright and Young Pete Jackson
---