Boxing History: August 12, 1959 Archie Moore KO 3 Yvon Durelle, Montreal. Retains World Light Heavyweight Title.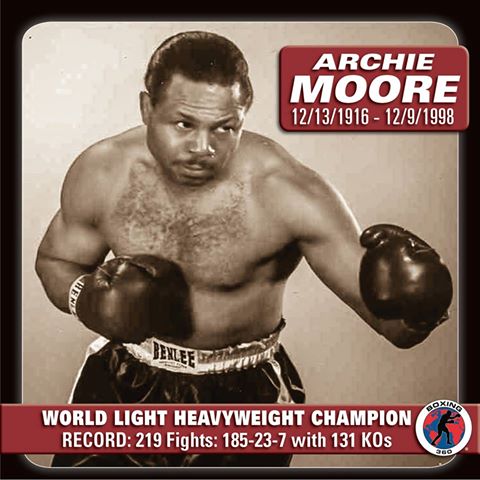 Nicknamed "The Old Mongoose." Moore held World Light Heavyweight Championship for ten years (December, 1952–May, 1962). Moore holds the record for the most career knockouts (131). He ranks #4 on The Ring's list of "100 greatest punchers of all time," has the longest reign in Light Heavyweight history, and is rated by prominent boxing website BoxRec as the greatest pound-for-pound boxer of all-time.
Archibald Lee Wright was born on Dec. 13, 1913, in Benoit, Miss. (according to Moore's mother and Ring magazine). Or maybe Dec. 13, 1916 in Collinsville, Ill. (according to Moore). Asked why there was so much doubt about his age, Moore said, "I've given this a lot of thought, and I've decided that I must have been three when I was born." He was an American professional boxer, who had one of the longest professional careers in the history of the sport.
The "Old Mongoose" fought for 27 years.
Asked the secret to his success, he only offered two pieces of advice: "always exercise the mind and never keep track of time."
After retiring as a fighter, Moore pursued a career in show business while living in San Diego. But he did not drift far from boxing, serving as a trainer and manager. He was George Foreman's advisor and cornerman when he took the heavyweight championship from Joe Frazier in 1973. Three years later, he served as the coach of the Nigerian boxing team at the Olympics.
Moore had seven children and was married five times. His last marriage was to Joan Hardy, a New York model, in 1956. They were still together 42 years later when he died on Dec. 9, 1998, at a hospice in San Diego after a lengthy illness.
Archie Moore was 84 or maybe 81.
Incredible interview with Archie "Old Mongoose" Moore originally aired in 1973 on "DAY AT NIGHT", the popular public television series hosted by the late James Day.
---