Boxing History: August 15, 1911 Sam Langford KO 5 Philadelphia Jack O'Brien, NYC.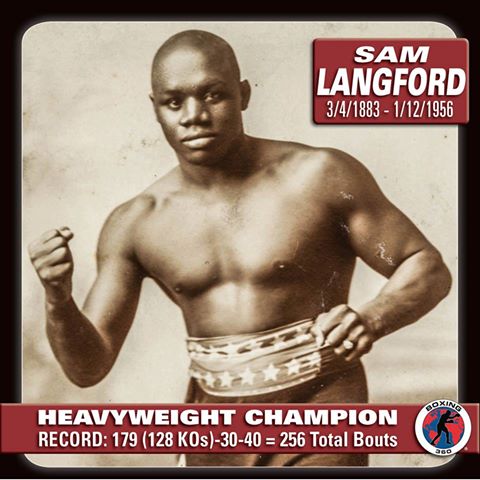 Referee: Charlie White."Sam Langford, of Boston, with an advantage of about ten pounds in weight, brought 'Philadelphia' Jack O'Brien to a standstill in four and one-half rounds at the Twentieth Century Club in New York. Referee White prevented a knockout when he stopped the bout in the middle of the fifth round. O'Brien was practically out from the effects of a hard left hook to the jaw and had to be helped to his corner." (San Juan Prospector)
Samuel "Sam" E. Langford (March 4, 1883 – January 12, 1956) was a Black Canadian boxing standout of the early part of the 20th century. Called the "Greatest Fighter Nobody Knows," by ESPN,[1] he was rated #2 by The Ring on their list of "100 greatest punchers of all time."
He was denied a shot at many World Championships due to the color bar and by the refusal of Jack Johnson, the first African-American World Heavyweight Champion, to fight him. Langford was the World Colored Heavyweight Champion, a title vacated by Johnson after he won the World Championship, a record five times. Many boxing aficionados consider him the greatest boxer not to win a world title and one of the greatest boxers in the history of the sport. BoxRec ranks him as the 4th greatest heavyweight of all-time, the 9th greatest pound-for-pound fighter of all-time and the greatest Canadian boxer of all-time.
Langford eventually went completely blind and ended up penniless, living in Harlem, New York City. In 1944, a famous article was published about his plight and money was donated by fans to help Langford. Eventually funding was obtained to pay for successful eye surgery. Langford was enshrined in the Ring Boxing Hall of Fame and Canada's Sports Hall of Fame in 1955. He died a year later in Cambridge, Massachusetts, where he had been living in a private nursing home.
In 1999, Langford was voted Nova Scotia's top male athlete of the 20th century.
RARE Video footage of Sam Langford highlighting his skills and breaking him down as a fighter. Includes footage of the rare Joe Jeanette film with normal film speeds. For more on Langford see Clay Moyle's book "Sam Langford ?#?Boxing?'s Greatest Uncrowned Champion."
---