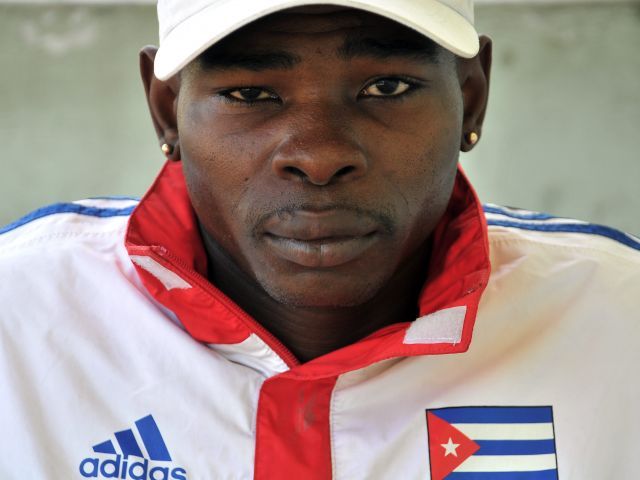 Although undefeated, experienced and one of the most recognized names for boxing hardcore fans, Guillermo "Chacal" Rigondeaux is running out of time.  At thirty-four years old for all intent and purposes in the sport of boxing, the Cuban Olympic superstar is an old man.  For that reason Rigondeaux since he captured the WBA super bantamweight title in his ninth fight with a sixth round destruction of Rico Ramos has been calling out every name he can to make a paycheck.
Not many are biting.
Rigondeaux joined the specialty sports program in his native Cuba at the age of seventeen.  Despite of the late start Rigondeaux is considered one of the best amateur boxers of all time winning gold in Sydney in 2000 and Athens in 2004.  He also captured two world titles, seven national titles and a gold medal in the Pan-American games in 2003.
After a failed attempt to leave Cuba in 2007 along with Erislandy Lara, he was able to finally defect in 2009 and go pro later that year.  After a couple of easy opponents to ease his way into the pro ranks, Rigondeax faced a veteran of seventy fights, Giovanni Andrade, in his third right.  Rigondeaux promptly dispatched him in three rounds to capture the vacant NABA super bantamweight title.  On the fast track, four fights later Rigondeaux toughed out a split decision over Ricardo Cordoba to earn the interim WBA 122lb. title.  Two fights later he got the full-fledged version with his knock out of Ramos.  Since then he has defeated a good array of names including Teon Kennedy, Robert Marroquin, Joseph Agbeko and Sod Kokietgym.
The biggest name so far though and his most masterful performance was against the then WBO champ Nonito Donaire back in early 2013.  Despite going down in the tenth round, Rigondeaux was in full control for the full twelve rounds.  Maybe not the most exciting fight of the year but it was a great example of his technique and his superior skill over a fighter that was considered one of the top five of the world at that moment.
For the better part of the last year Rigondeaux has been yelling from the rooftops and to whoever will listen that the fight he wants is against fellow undefeated champion Leo "Terremoto" Santa Cruz.  It looks like now he might get his wish since Santa Cruz's promoter, Oscar De La Hoya of Golden Boy Promotions, has called for the fight and it is rumored that talks with Rigondeaux's team have commenced.  The question that lingers is what of another fight mentioned for Santa Cruz against Abner Mares?
Another obstacle on the road to the fight might be none other than Al Haymon.  Haymon in the past has had no problem matching two of his fighters against each other like he did with Danny Garcia vs Lucas Matthysse.  With the rumored fight between Santa Cruz and Mares talked about at a catch weight of 124lbs, even if Santa Cruz loses, he still retains his WBC  super bantamweight title which is also a wanted commodity with the television networks.
With a loss to Rigondeaux, he will not since it is expected for their fight to be a unification fight of Rigondeax's two titles against Santa Cruz's one.
---