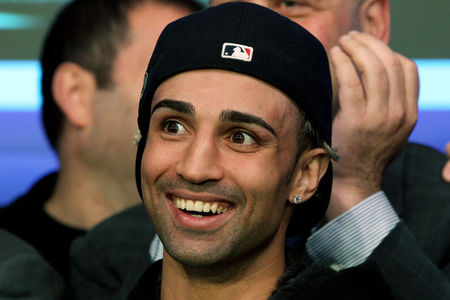 After losing his WBA welterweight title to Adrien "The Problem" Broner earlier this year, Paulie "Magic Man" Malignaggi threatened to pull a disappearing act and retire from the squared circle.  With a cushy job with Showtime as a commentator and a few years north of thirty, the feather-fisted Paulie felt that his time inside the ring was over.
Then Al Haymon called.
Haymon, more reclusive than JD Salinger, is considered quite possibly the most influential man in boxing.  With Floyd Mayweather Jr, Chris Arreola, Adrien Broner, Danny Garcia and Leo Santa Cruz among the fighters that he advises, Haymon has quite the clout with the television networks, initially with HBO and now with Showtime.
Haymon convinced Malignaggi there was still some big fights for the Italian in the sport and convinced him to stay on for a bit more.  It worked since Malignaggi returned to the win column with a solid and convincing unanimous decision over former two-divisional champion Zab Judah over the weekend from the Barclays Center in what was billed "The Battle for Brooklyn".
Now after the win, Malignaggi is being mentioned in the same breath as a possible opponent for a number of the biggest names in the sport.  The first would be a rematch with Broner.  In a fight where Malignaggi, just like in his last fight versus Judah, was the busier of the two with Broner scoring the harder punches, "The Problem"  walked away with a split decision with one judge seeing it for Malignaggi while the other two for Broner. Many boxing insiders weren't expecting for Malignaggi to perform as well and they have come out publicly and call out for the return bout.
Danny Garcia, the current WBC/WBA light welterweight champion, is another name that has been mentioned as a possible opponent for Malignaggi in 2014.  It is no secret that Garcia is considered the best 140 pounder in the world and really has no more business in the division. Garcia is also being touted as a future Floyd Mayweather Jr opponent but first he must travel north to the welterweight limit.
Garcia can establish himself in the division by defeating an already established name and Malignaggi fits perfectly.  Days after his Judah victory, Malignaggi has already showed interest in this match up.
The most far-fetched proposition for Malignaggi might be a bout against Mayweather Jr himself.  Mayweather Jr is in desperate need for viable dancing partners to fulfill his record breaking multi-million deal with Showtime and Paulie with his pedigree, two titles in as many divisions, recent wins and the gift of gab, might fit beautifully in future plans for Mayweather Jr.
At thirty-three, Malignaggi has gotten a second win in his career and proving that he is a smart man, inside and outside the ring, we are sure that he will take full advantage of it.  The only questions will be, against who?
---