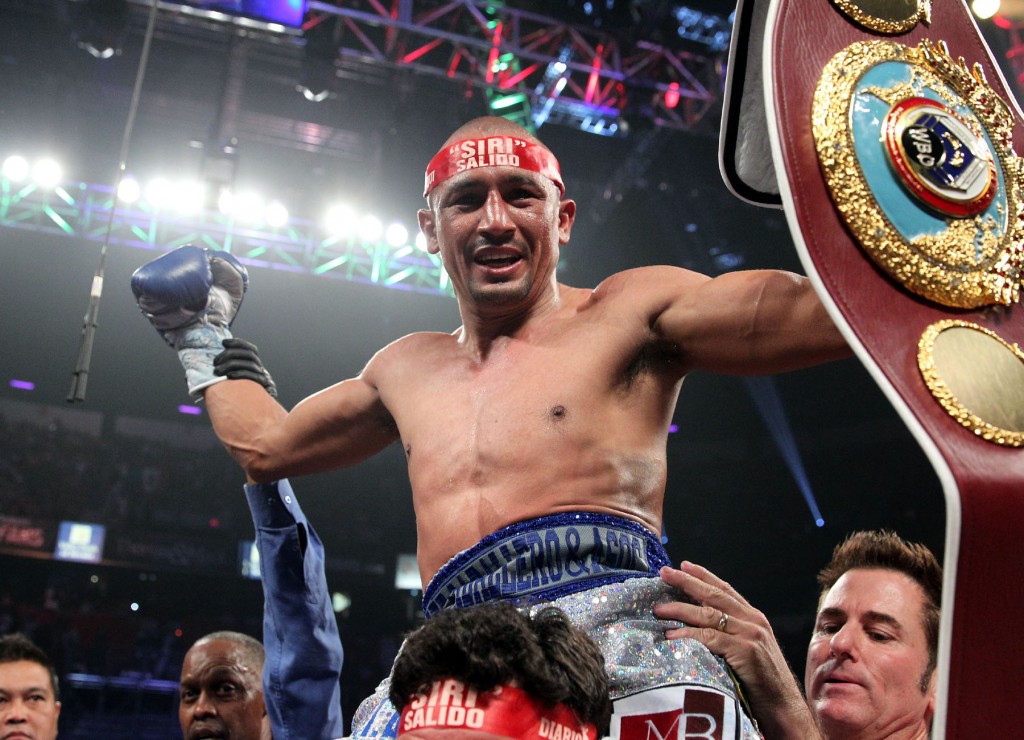 This week a fan-friendly fight was announced for Saturday, April 11tt.  No, it is not the catch weight bout between the undefeated Danny Garcia and Lamont Peterson and no, it is not the WBO middleweight fight between newly crowned king Andy Lee and Peter Quillin. Although those two fights should be very pleasing to the eye as far as action on terrestrial network NBC as the second offering of Al Haymon, it is the fight that will take place from Puerto Rico that is a guaranteed war.  From the newly build Puerto Rico Coliseum, WBO super feather weight champion Orlando "Siri" Salido of Ciudad Obregon, Mexico, will defend his title against local fighter Roman "Rocky" Martinez in a twelve round championship bout.  The fight will not be broadcast by either HBO or Showtime but on an independent Pay-Per-View.
If you are a boxing fan, you know who Orlando Salido is.  A true Mexican warrior, Salido follows the traditional south-of-the-border edict of receive three punches to score one.  In fights against the likes of the aforementioned Lamont Peterson, Juan Manuel Marquez, Robert Guerrero, Yuriorkis Gamboa, Juan Manuel Lopez, Mikey Garcia and Vasyl Lomachenko, "Siri" Salido has amassed a rather pedestrian 42-12-2, 29KO, record winning some and losing many against the biggest name in his weight category.  Despite of that, through sheer toughness and tenacity, Salido has captured titles in three world titles in two different categories. In his last fight in September of last year in Tijuana, Salido went down to the canvas three times to Terdsak Kokietgym's four in what was considered as the fight of 2014.
Martinez style is not that much different to that of his next opponent's.  Despite born and learning how to box on the island, Martinez is believed to fight more like a Mexican than that of a more technical and quick Puerto Rican.  Martinez at thirty-two years old looks and fights much fresher than Salido despite "Siri" only being two years older.  Martinez is an experienced fighter with thirty-two professional fights under his belt and having captured the WBO super featherweight title twice in his career.  The same title that he will be challenging Salido for.  Martinez has also faced his good share of name fighters such as Nicky Cook, Ricky Burns, Juan Carlos Burgos and Mikey Garcia.
Against their only shared opponent, Mikey Garcia, both men suffered the same fate.  Martinez dropped his 130lb title via an eight round TKO in late 2013 while Salido lost the same title against Garcia but in a much more bizarre way in earlier the same year.   After vising the canvas three times at the fists of Garcia, twice in the first and once in the third and fourth, an accidental head butt in the eighth broke Garcia's nose.  Garcia walked away with the title with a controversial technical decision.
Martinez might have enough speed and skill to try to out-box the Mexican but will he have the heart and conditioning to survive the twelve rounds?  Home canvas disadvantage doesn't mean a thing for Salido since he has traveled to the island twice to destroy Juan Manuel Lopez. Martinez might have his hands full on April 11th much to the delight of us boxing fans.
---