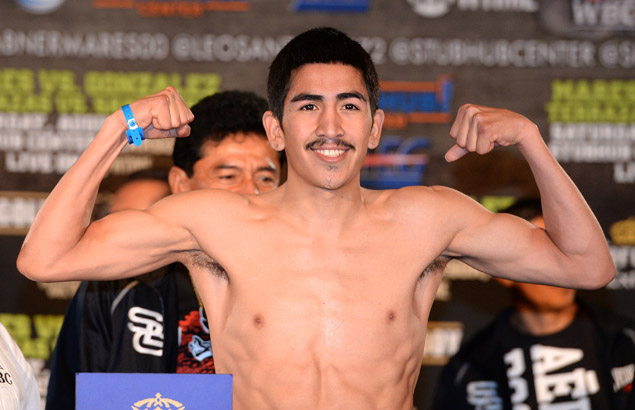 A rumor is swirling around the wide world web which alludes that current undefeated WBC super featherweight champion Leo "Terremoto" Santa Cruz might be relinquishing his belt to move up to the featherweight division four pounds north.  Many fans and boxing pundits alike believe that Santa Cruz has unfinished business at 122-pounds but that with powerful advisor Al Haymon with a solid grip around his career, the boxing world won't be able to witness those fights.
Originally from Michoacan, Mexico, the twenty-six year old Santa Cruz settled with his family in southern California in Rosemead, CA, and went pro in late 2006 at super flyweight after a successful amateur career which included a gold medal at the world games at the age of fifteen.  After starting with a smaller promoter but with an influential manager in Cameron Dunkin, Santa Cruz found himself Golden Boy Promotions.  He captured his first title at bantamweight when he earned a unanimous decision over Vusi Malinga in the summer of 2012 to strap the IBF title around his waist.  That year tied 2009 as the busiest of his career when he fought five times in both but 2012 was much more eye-opening.  After capturing the title, Santa Cruz defended it three times that year including once on terrestrial TV on CBS in the last fight of the year against Alberto Guevara.
In his second fight of 2013 Santa Cruz captured the title he now is thinking of vacating when he completely annihilated champion Victor Terrazas at the then Stub Hub Center in Carson, CA.  After that third round knockout it seemed that Leo Santa Cruz could do no wrong.
That didn't last long.
Once you climb that ladder and make it to the top, boxing fans expect their favorite fighters to look around and see who else is up there.  Once that is discovered, they want it to get very crowded and for the best to knock each other off.  Santa Cruz found that the cramped quarters were being taken over by Cuban wunderkind Guillermo Rigondeaux.  What ruined the honeymoon between Santa Cruz and fans was that Rigondeaux was willing to find out who truly was the best at super bantamweight while Santa Cruz not so much.  Or at least he was willing to make you believe that he wanted to challenge himself against the amateur star but then went and hid behind the apron of first his father and trainer as well as his advisor Al Haymon.
Since that fight against Terrazas, Santa Cruz has defeated the likes of Cesar Seda, Christian Mijares, Manuel Roman and Jesus Ruiz.  Were the fights horrible to watch? Some of them.  Were they entertaining? Some of them. Were they the boxing fans wanted to watch? None at all.
Another fight that fans were clamoring for was against Brit Carl Frampton but with Rigondeaux in the States and Frampton against the pond, the safest place for Santa Cruz might be somewhere over the Atlantic Ocean.
If the rumor is true and Santa Cruz does leave the title vacant, his only saving grace moving forward would be to face stable mate Abner Mares in his next fight.  This fight might be the easiest one for him to see himself in since Al Haymon advises both.  If this fight materializes, then everything that came before just might be forgotten.  Just might.
---