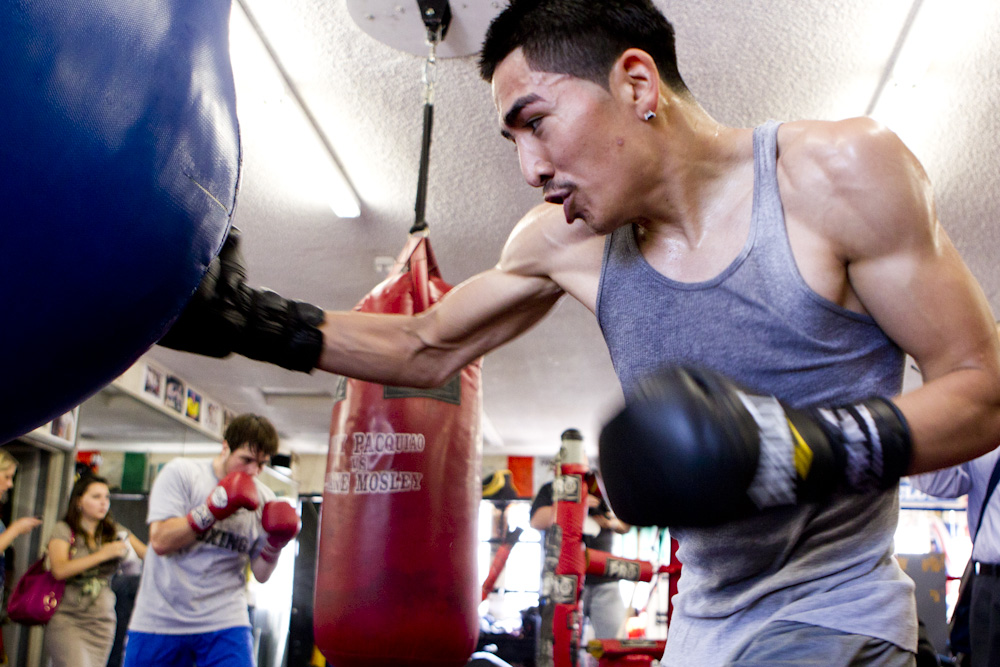 In our last blog we mentioned in a tweet last week, the pound for pound king and now promoter Floyd "Money" Mayweather Jr announced the Pay-Per-View undercard for "Mayhem: Mayweather vs Maidana II" set for September 13th at the MGM Grand Arena in the city of sin, Las Vegas and broadcast live by Showtime.  It is no secret that the numbers of the first go-around between Mayweather and Maidana weren't off the charts but it is hard to believe that all the parties involved, Golden Boy and Mayweather Promotions, Showtime and Al Haymon, truly believe that the announced undercard will sell more even if the main event was one of the best Mayweather Jr has been involved in.
WBC super-bantamweight champion Leo "Terremoto" Santa Cruz (27-0-1, 15KO) will defend his title against Manuel "Suavecito" Roman (17-2-3, 6KO) in a scheduled twelve rounder.  This is not a world title fight let alone a PPV fight.  Of all three scheduled bouts for the PPV, this is by far the weakest.  Roman has only been scheduled for ten rounds once, a loss to Randy Caballero in August 2012 via a unanimous decision.  Roman is currently ranked #13 as a bantamweight by the WBC.  He is on a bit of streak with that Caballero being his lost loss while stringing two straight ones.  In his first after the loss he captured the vacant California bantamweight title against unproven John Amuzu in his only fight of 2013.  In his first fight of this year, he defeated the 15-10 John Silveria in a six rounder.
If you were complaining about Garcia vs Salka, what is there to say about this match up?
In another title fight we will suffer through Mexican Miguel "Titere" Vazquez (34-3, 13KO) when he will defend his IBF 135lbs title against Mickey Bey (20-1-1, 10KO).  At least in this fight Bey is ranked in the top 15 of the division at 13.  The losing factor in this scheduled twelve rounder is that it will probably be like any other "Titere" Vazquez fight, not entertaining at all.  Vazquez, who recently was dropped by his promoter Zanfer but signed by Al Haymon, has only defended his title seven times since capturing it 2010.  2012 was his busiest year when he defended the title four times but none in 2013.  He had to travel to Macau, China, earlier this year to face Denis Shafikov.
In the third and final support fight of the night promises to be the most entertaining one of the night, at least on paper.  Despite not really doing much in his last fight against Saul "Canelo" Alvarez, Alfredo "Perro" Angulo (22-4, 18KO) looks to compete in the middleweight division when he faces Texas' James De La Rosa (22-2, 13KO) for ten rounds or less.  Angulo usually has one speed and that is slow but also only one direction which is forward.  That tends to make for good fights since he throws a large amount of blows but also receives them.  The only time that didn't work in his favor, at least to give an entertaining fight, was against Alvarez where he didn't do much of anything.  De La Rosa is a nearly unheard of fighter from San Benito, Texas, who has never faced a fighter of the caliber of Angulo.  Truthfully, this match up doesn't even deserve to be on UniMas.
In another fight not to be broadcast on PPV but on Showtime as a warm-up, we will see slugger John Molina Jr (27-4, 22KO) against veteran three-divisional champ Humberto "Zorrita" Soto (64-8-2, 35KO) who if we go by the writing on the wall, should see the end of his career come by a spectacular knockout at the fists of Molina.
---