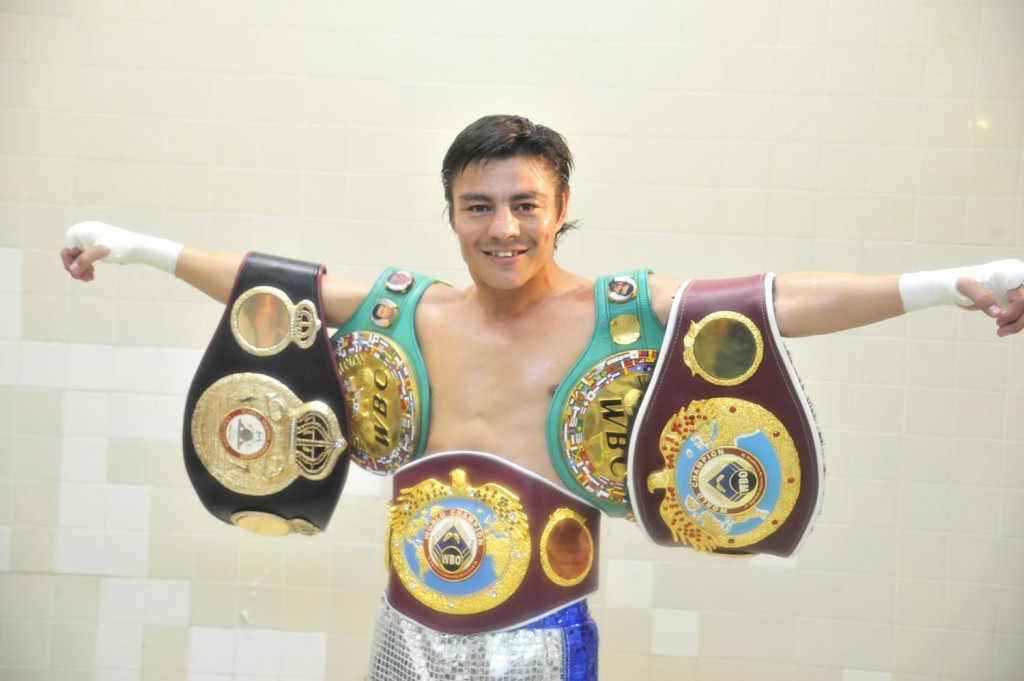 This past Saturday night the boxing world saw the end of an illustrious career filled which at the end was full of controversy.  Former multi-divisional world champion Jorge "Travieso" Arce of Los Mochis, Sinaloa, Mexico, said good bye to the squared circle after a nearly eighteen year career.  Arce saw the end in a WBC featherweight title fight where he attempted to battle current champion Jhonny Gonzalez but fell short, stopped in the eleventh round of a scheduled twelve.  It was clear that Arce really had no business in the ring with Gonzalez who despite only a couple of years his junior and a veteran in his own right, has been in considerable less wars that the man known for sucking on a lollipop before his fights.
Saturday night in his hometown of Los Mochis Arce was looking for his sixth crown in as many divisions. As of now he considers himself, as well as many of his fans that come to his defense, the only Mexican born fighter to win titles in five divisions.  The controversy sits if one of them is truly considered a world title.
Arce began his career as a junior flyweight and captured his first title, the WBO strap, in 1999.  He lost it in his next fight in one of the most spectacular fights of his career when he was stopped by the great Michael Carbajal in the eleventh round.  His next divisional title came six years later after reining the 108lb division with the WBC title around his waist for years.  Arce captured the interim WBC flyweight title by stopping Angel Priolo in three rounds.  This is where the controversy begins.  The recognized champion of the WBC and the division was one Pongsaklek Wonjongkam of Thailand.   A veteran of nearly one hundred fights, Wonjongkam captured the title in 2001 and never traveled out of his home country except for seven times to Japan.  Arce never found his way to Thailand so there is the question, was Arce truly a world champion since he held the interim title and not the full-fledged one?
His argument is that Wonjongkam never wanted to fight him.  Credible enough but this is prize fighting after all and simply maybe the offers to Wonjongkam were simply just not good enough.  According to the rules, an interim fighter is crowned when the absolute one can't fight due to injury or any other reason but in this case, Wonjongkam was always in the picture just a world away.
Arce defended the interim title multiple times and after many attempts, finally captured another title, this time in the super flyweight category, when he stopped Angky Angkotta for the WBO version in 2010. He skipped the bantamweight division and instead went after Wilfredo Vazquez Jr and defeated him in 2011 for the WBO super bantamweight division in quite possibly his last great performance.  Later that year he went down the four pounds to 118 and fought and beat again Angky Angkotta for the WBO title making him a five-time world champion.
Depending who you ask.
---