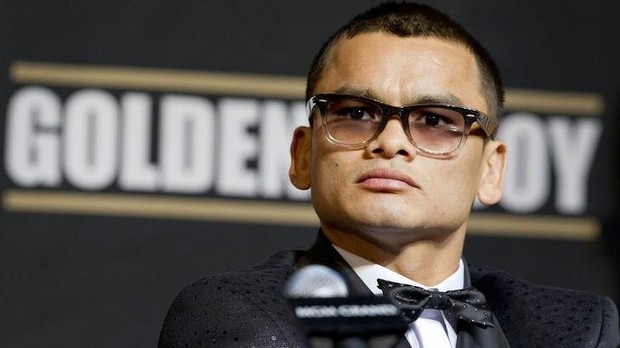 In continuing with the controversy team from our last blog, in this edition we will delve into some interesting stories surrounding the rematch happening this weekend from the MGM Grand Arena in Las Vegas, Nevada, between Floyd Mayweather Jr and Marcos Maidana.  The fight night broadcast live on Showtime PPV is presented by Golden Boy Promotions along with Mayweather Promotions.  There is three major points that need to be discussed revolving one of the two biggest PPV events of the year.
First up is the all too familiar issue of the gloves.  If we believe the drama that was conveniently filmed for public digestion by Showtime's reality series "All-Access" the night before, the first fight almost didn't happen Mayweather's team discovered that they gloves that Maidana was planning to use, a custom set of Everlast MX, had very little padding in the knuckle area of the glove.  Maidana threatened to pull out if Maidana didn't fight with Grant gloves, Floyd's brand of choice.  Team Maidana did not agree since they have never used Grants and the bout was in danger until Maidana agreed to use the Everlast PowerLock.  It is rumored that Mayweather paid Maidana up to two-million dollars for the switch.
Up to last week it was known that Team Maidana had no idea what gloves he was supposed to use.  Obviously the MX will not be approved but throughout the press tour to promote the rematch, Marcos Maidana and team acted as if they didn't know what gloves they will eventually lace up this Saturday night.  It was revealed in the first episode of "All-Access" that Maidana will once again use the PowerLocks but this time he will have more time to get used to them.
Another controversy that is going on this Saturday night is that Mayweather has been given the option to defend his three current titles against Maidana.  Two make sense, one doesn't.  Mayweather Jr is defending is WBC welterweight title which he beat Robert Guerrero for and his WBA of the same division which he defeated Maidana for in their last fight.  The one that doesn't make sense is the WBC super welterweight which he took from Saul "Canelo" Alvarez back in September.  Why is Maidana eligible to fight for this title? He has never been ranked in that division.
Think about it. Let's say the unthinkable happens and Maidana scores one of those huge looping overhand rights straight to the chin of Mayweather Jr and send Floyd away to La-La land.  You are going to tell me that if that happens Maidana will not only be crowned the WBC and WBA welterweight champion but also the WBC super welterweight champion?  Not much has been said of this point by much of the media and surely not by the promotions.
The third controversial point is the overall weakness of the supporting PPV undercard. Santa Cruz-Roman, Angulo-De La Rosa and Vazquez-Bey might be one of the worst assembled fight cards ever put together.  Does it have to do that these sub-par fights are not as expensive as the previous supporting cast that Mayweather Jr thus allowing the promoter, Mayweather himself, to keep more of the take for himself?
You better believe it.
---