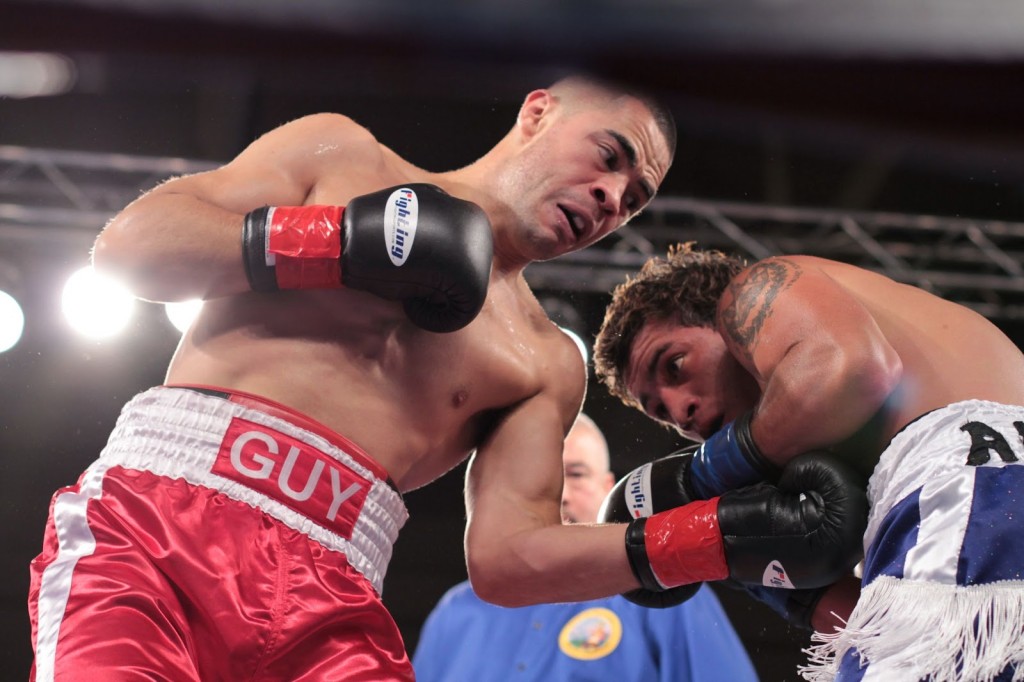 David Hopper of 8CN caught up featherweight prospect Guy Robb (10-1, 4 KOs). The 24-year old will fight John Herrera (4-6-1, 2 KOs) this Friday at the Celebrity Theatre in Phoenix, Arizona.
DH: How's training camp going?
GR: Training camp has been good, a lot of sparring, a lot of strengthening, a lot of conditioning. I'm eating a lot more healthier than I have been in the past. I've been doing a lot of reading on healthy foods and superfoods. Camp is complete and it was a success and I'm ready to go.
DH: What do you know about your opponent, John Herrera?
GR: I know that he's a New Mexico native. There's high elevation over there. He'll be in good shape and ready to fight. He's never been stopped before so I'm looking forward to being the first.
DH: So you'll be gunning for the knockout?
GR: Well, you know, every time I step in the ring it's with that intention. It's nothing personal. It's just the name of the game and the person I am.
DH: You recently signed with Boxing 360. Talk about your decision to sign with them.
GR: It was a perfect fit. I was a free agent. I had my manager finding me fights here and there, but we were at the point in our career that we needed a promoter. We hooked up with Boxing 360, which was a perfect fit because I'm trying to stay busy. I don't necessarily need to stay at my home base. I like taking on the challenges and difficulties of traveling and fighting in different areas. We both have an understanding of dedication and we're both looking to a bright future.
DH: Previously you were with Goossen Tutor, is that right?
GR: I was. I was fighting with Goossen Tutor for 2012, about half of the 2012 year. It just didn't work out and luckily they released me with no troubles and just let me go my way.
DH: You moved down in weight from super featherweight to featherweight? Why did you move down? How have you felt since the move?
GR: I was fighting to stay active. We were fighting at a little bit heavier weight than what I could make and what I could fight at naturally. After I lost (to Joel Diaz in 2012), I decided I wanted to fight at the weight that I feel strong at and that I can make so we moved to featherweight and this is where I'm going to campaign.
DH: You are perhaps best known for your toe-to-toe brawl with Joel Diaz. What did you learn from that fight?
GR: I learned that there's a lot more in boxing than just fighting. There's a lot of mental aspects involved and you have to be 100 percent. I make the mistakes in that fight that really cost me, and it made me want to grow into a much more mature and advanced fighter and I think it did.
DH: How would you describe your fighting style?
Written by David Hopper
GR: I consider myself as a boxer-puncher with a bad attitude and a mean heart. When I step in the ring I'm going in there with bad intentions. It's nothing personal. That's the sport and that's what I enjoy.
DH: Do you feel like you're improving with each fight?
GR: Yeah, I do. I feel like it's very necessary for me to get as many fights as I can, to stay active. That's why I'm so happy to be hooked up with Boxing 360. They're willing to keep me active as long as I'm fight ready. It's time for me to get all the fights under my belt and get as much experience as I can. Each training camp I'm growing as a fighter physically and mentally.
DH: You are trained by Ray Woods, stepfather of the late Diego Corrales. Talk about what it's like working with him.
GR: He's a different kind of trainer. Not too many people can hang with him. He keeps the gym pretty tight. He keeps the circle pretty tight. Basically everybody on the roster is just animals and he kind of just takes you to the next level. Whatever you do naturally, he makes you the best at what you are. It's just great as far as him being a trainer, a friend and a mentor. Still, to this day, I've been knowing him for years. He's like a book, giving me knowledge one chapter at a time.
DH: You got a relatively late start at boxing. Talk about your amateur career.
GR: I fought for two years amateur. I started at 17. I trained for six months and I fought and I fought and I fought. Within a year of fighting I had 10 fights. I went to nationals and got a bronze medal. I went to the Ringside tournament and won it. Life kind of pulled me away from training and I kind of fell off track. I think I put together 24 fights in a two-year span. I was off probably a year and a half. The birth of my child kind of brought me an epiphany and what I wanted to do in life and that was to go back to the gym and try to strive for something positive and something great such as being a world champion.
DH: You are from Sacramento. I understand that one of your goals is to help restore the boxing scene in Sacramento. There's some boxing history there.
GR: Most definitely, there's quite a few champions who were born and raised in Sacramento. I will say probably around the '80s when it was at it's peak, the boxing here in town, I hear stories about it all the time from the older guys. We call them Old G's, and I love listening to the stories about the energy and intensity that filled these venues. And they're still talking about it 30 years later. I love that. I want to be part of that. I want people to talk about how packed and how much energy was in the house when Guy Robb fought. That's one of my goals to do that.
DH: Anything you want to say to your fans in closing?
GR: We plan on getting busy and finishing the year strong. If you want to stay tuned you can look me up on Facebook or Twitter. Here I come.
Written by David Hopper
---