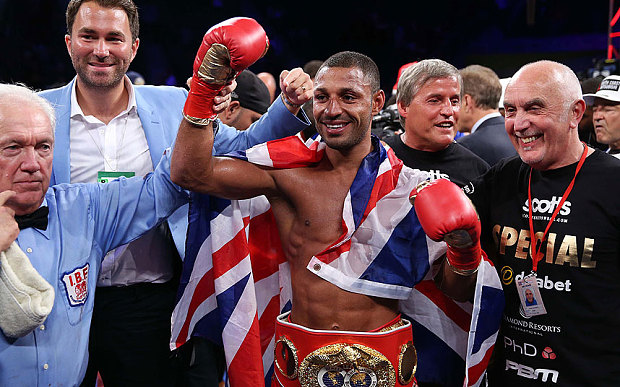 Current IBF welterweight champion of the world Kell "Special K" Brook  (33-0 , 22 KOs) of Sheffield, Yorkshire, United Kingdom will make his anticipated 2015 debut vs. mandatory Jo Jo  Dan (34-2 , 18 KOs) March 28th at the Motorpoint Arena in Sheffield, Yorkshire UK.  The bout will mark the first defense of his title.  Brook will also be fighting in front of a packed crowd in his native Sheffield.
The last known boxer to come out of Sheffield was former long reigning world champion Naseem Hamed. Hamed had a very successful pro career. He won multiple world titles and lost just once in his 10 year career. Hamed was extremely talented inside the square ring and packed a serious punch. His fights were also an event as his ring entrances were must see TV. Hamed will be inducted into the hall fame this coming June.
Brook is not the showman that Hamed was but he does have an entertaining fighting style. He is also very marketable.  He speaks very well, fights with a lot of confidence, and doesn't panic under pressure. This was evident in his 2012 IBF world title eliminator with American Carson Jones. Jones was able to hurt and bust up Brook. Brook for his part did not fold at all. Instead he gave as good as he got and won a hard earned close decision. Even though he didn't have to Brook gave Jones a rematch about a year later. This time Brook dominated in route to an 8th round TKO victory.
Now that he clearly closed the chapter on Jones it was time to move on to bigger and better things. In August of 2014 Brook would be headed to America to challenge IBF Welterweight champion unbeaten Shaw Porter. By the odds Brook was a 2 to 1 underdog.  It was going to be a tough task for Brook but one he showed he was up for. Brook came with a game plan for the powerful punching Porter. He tied him up well on the inside and by midway through the fight he pretty much had completely muzzled Porter's offense. Brook for his part was scoring effectively and stacking up the points.  At the end of the 12 rounds the judges had it right with Brook being declared the winner and the new champion.
The upside for Brook was that the Porter fight was aired on Showtime and many were given the opportunity to see him fight for the first time. Sadly the fight was not an entertaining one. Can't blame Brook. His objective was to win the world title and he did so. Not all victories are going to be spectacular. Brook is in arguably the hottest division in boxing. Something else in his favor is that he is promoted by Matchroom Boxing. This is major because that are not at odds with any promoter meaning no obstacles promotionally challenging in landing Brook the big fight.
Assuming he gets past Dan and he should. The fight most talked about for him would be with Amir Khan. It would be a huge domestic showdown in the UK and likely picked up by American television as well. Their styles would matchup very well to make for a fan friendly fight. This is the kind of fight that could break Brook out big internationally. Saying that it could be a reason why Khan isnt chomping at the bit to fight him. Khan is just now rebuilding his career after setback losses a few years back. A loss to Brook would set him back big time. Any hopes of a Mayweather or Pacquiao fight would be completely out of the question at that point. The good news for Brook is there are several high profile names at Welter especially if he is willing to travel stateside again. Either way Brook did it the right way. He earned the right  with his performance in the ring. Hopefully this leads to Brook being in at least one high profile fight this year.
---